| | |
| --- | --- |
| | 2008 Vancouver BC Photo Workshop |
Click here to return to the 2008 Vancouver BC Photo Workshop index page.
Day 4 (Monday, May 19, 2008)
Executive Hotel Vintage Park (Vancouver, BC) - First Day of Workshop
The first day of the workshop was enjoyable. We all met and started to go over and critque our portfolios that we were each asked to bring. The basic expectation is that we attend the class, review everyones images and at lunch and after the class and even before the class go out and shoot new images. The instructer, Jay Maisel, likes people shots so there is encouragement to do that.
By time lunch rolled around it was pouring down rain. Two of the class participants and I sat in window seats at the restaurant we ate lunch at so we could take photos out the window. The image below is one of those.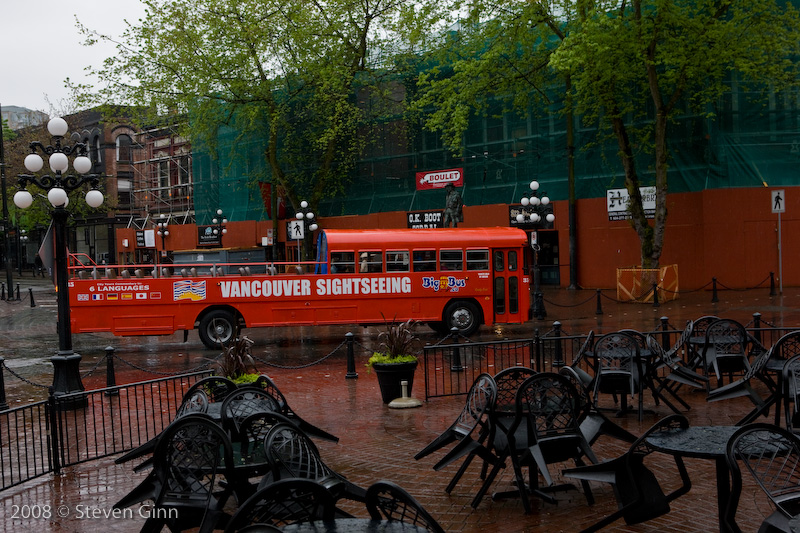 Here is a photo from the same restaurant were this waitress noticed all our large cameras and lenses and told us she had recently purchased a Canon 5D and wanted some tips on lenses to buy.
One last photo from this lunch place, it turns out that unknown to us a bunch of the others from the class had come to the same place for lunch including Rusty and Chris.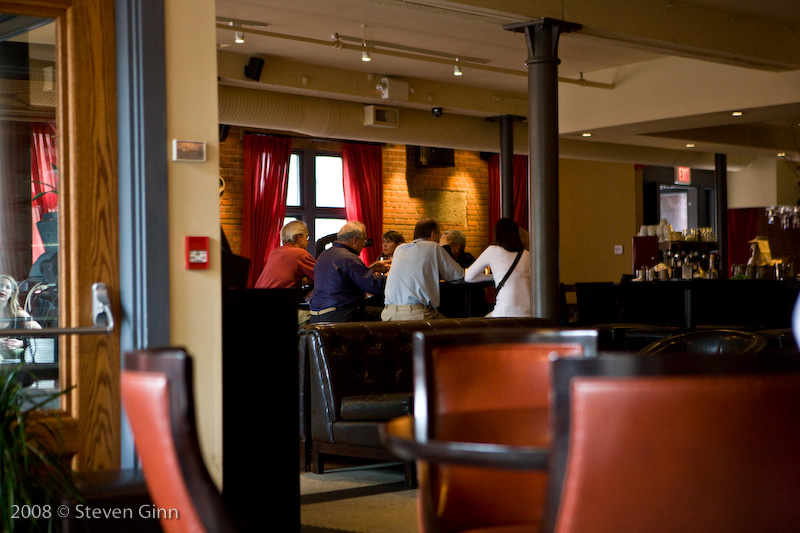 This workshop has us spending about a third of the day out shooting. Jay would like us to focus on people but I never feel very good about pointing my camera along with it's large lens at random people on the street and taking their photo unasked. However, along with people shots Jay had talked about the difficulty of making sense of chaos so here is my chaos shot.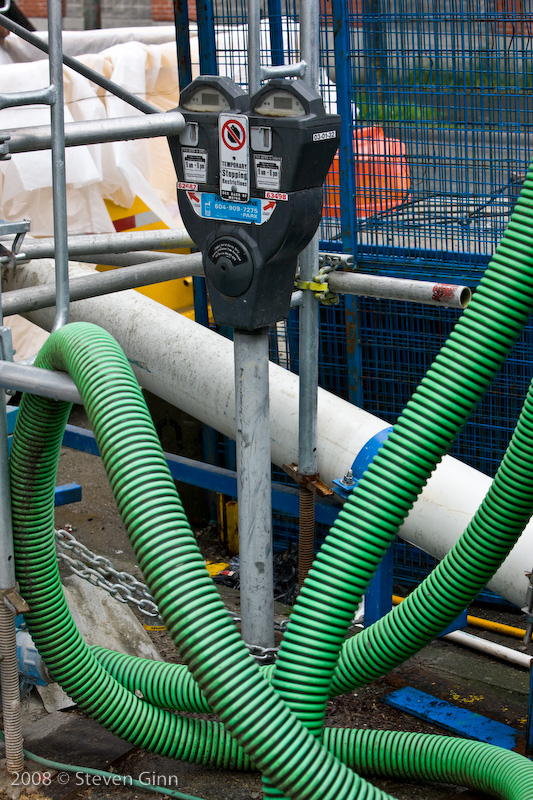 I think I will have to work harder at getting some people shots.
It turns out that there are two workshops going on and this evening there was a presentation by the two instructors of their work. The photo below is from the Q&A session after the presentation, Greg Heisler on the left and Jay Maisel on the right.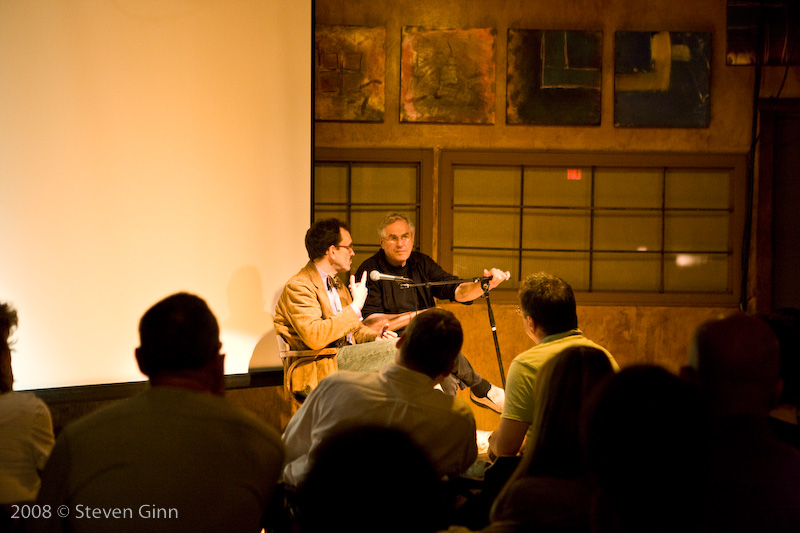 ---
Day 5 (Tuesday, May 20, 2008)
Executive Hotel Vintage Park (Vancouver, BC) - Second Day of Workshop
After a long morning of portfolio critques and lectures on how to get good images, a number of us went to lunch together. We are getting lots of encouragement to shoot images of people, something I'm not very good at.
The photo below is of our beautiful waitress at lunch today. Notice how nicely she is framed by the mat in the picture behind her.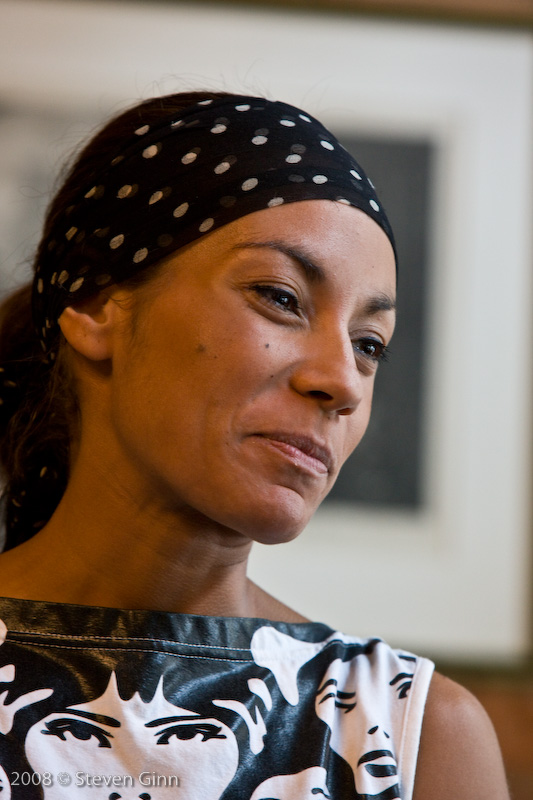 This is another person shot that I took through the window while sitting inside the restaurant for lunch.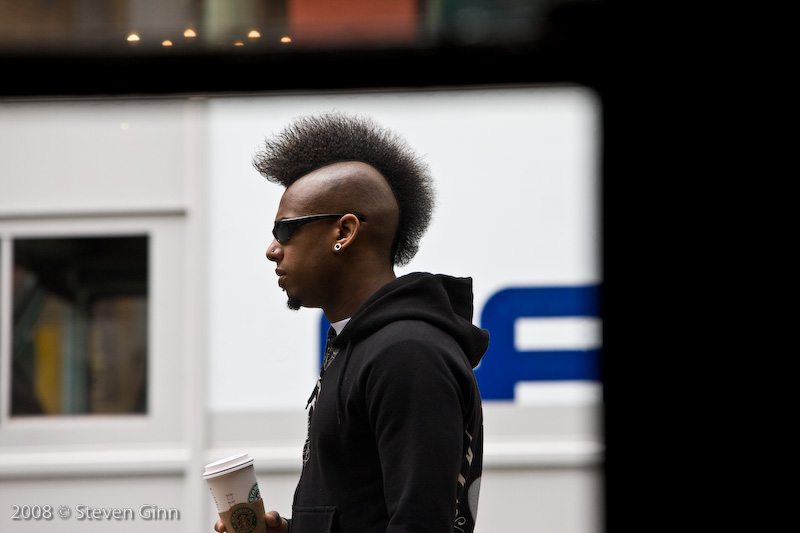 One of the key elements that Jay Maisel is working to teach us in this workshop is about gesture in the image. So I was very happy to capture the gesture in the image below.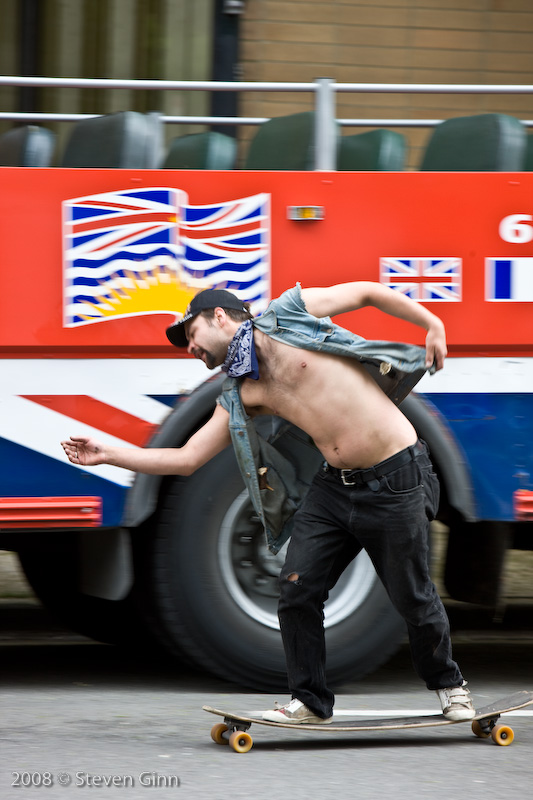 Here are two of the other students in the class who happened to spot me taking their photo.
Here is an interesting shot I took while walking along the waterfront during late afternoon.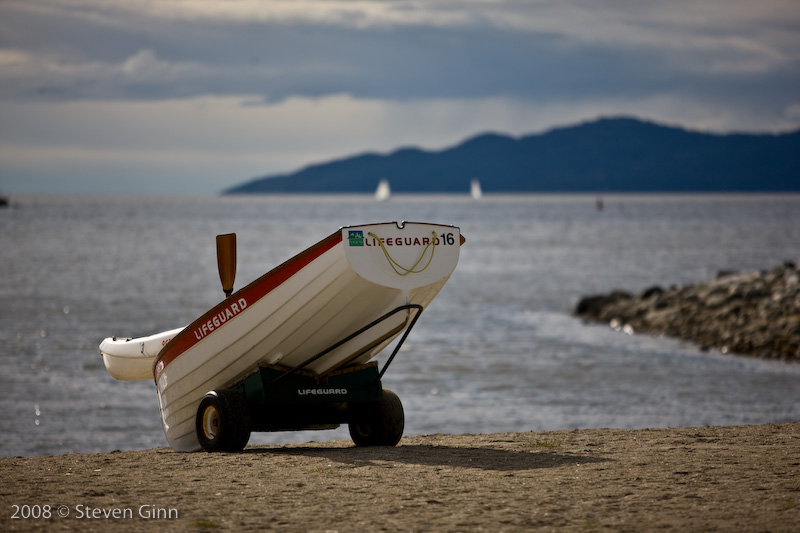 Let's hope for some more good images tomorrow.
---
Day 6 (Wednesday, May 21, 2008)
Executive Hotel Vintage Park (Vancouver, BC) - Third Day of Workshop
Between presenting our portfolios and listening to Jay's lectures we finally got around to finishing reviewing our portfolios today. Most everyone except one other student and I brought digital images, whereas the two of us brought prints. It turned out that this was a good decision on our part because the projector used for all the digital images was less than ideal in quality. The result was my prints had an unfair advantage over those that were projected. I was very happy with the positive comments I received. But Jay told me he wants more people shots from me this week.
So here is one from this afternoon that I thought had good gesture.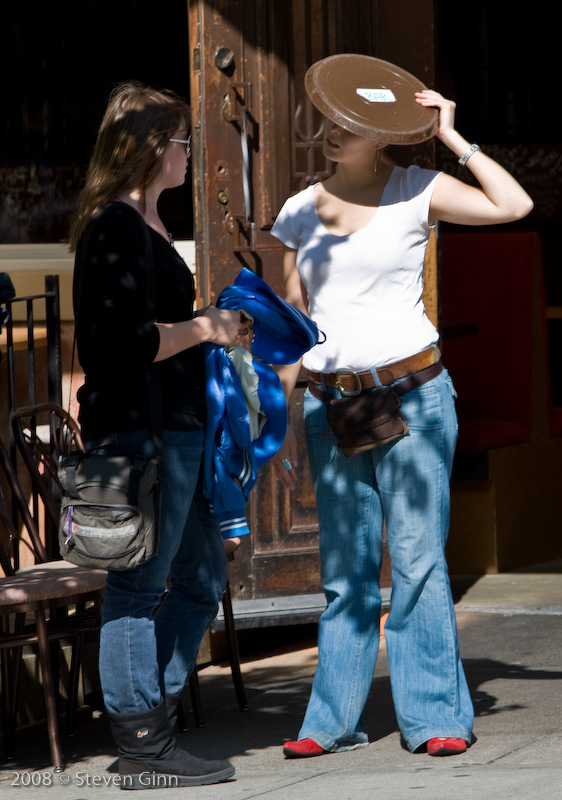 The following image was challenging to take, because I only had about 2 seconds to get the camera up and focused and the shutter clicked before this moment would have been gone.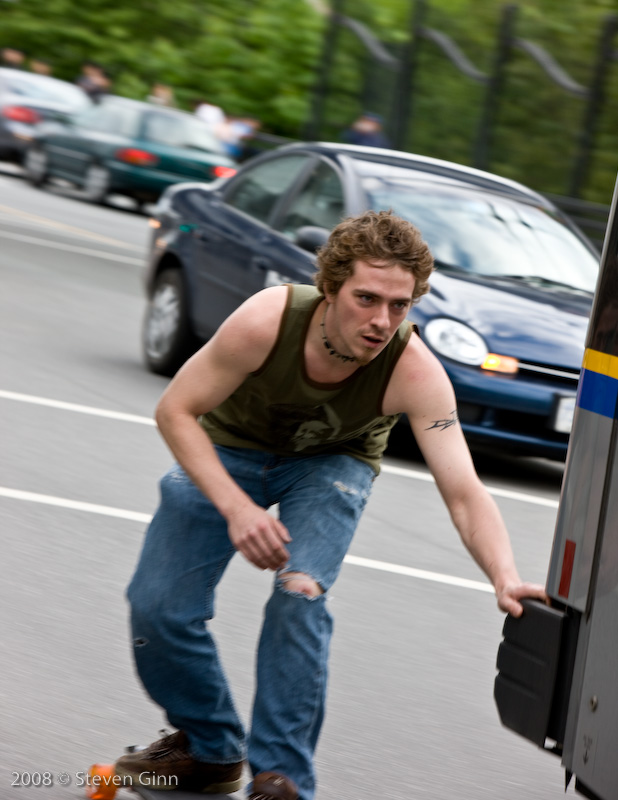 I thought the following was a nifty people shot with lots of unique character.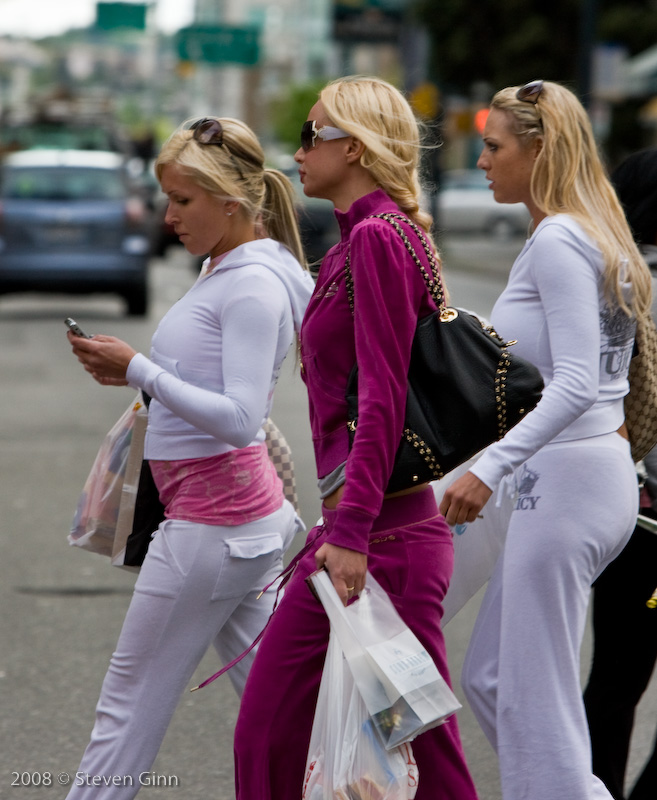 However, I couldn't completely give up on landscapes...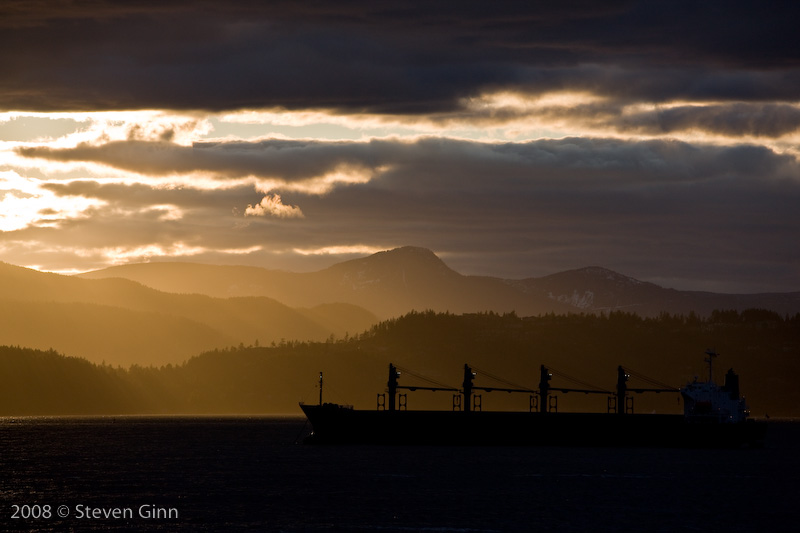 Tomorrow we will start looking at photos everyone has taken during the workshop this week.
Click here to return to the 2008 Vancouver BC Photo Workshop index page.