| | |
| --- | --- |
| | 2008 Vancouver BC Photo Workshop |
Click here to return to the 2008 Vancouver BC Photo Workshop index page.
Day 1 (Friday, May 16, 2008)
Home (Beaverton) to Howard Johnson's Hotel (Tacoma, WA)
I left after work today to get a head start on the drive up to Vancouver BC. If nothing else it ensured that I was not wasting time Saturday morning with final packing, since by definition once I was on the road there was no more worrying about what I forgot to pack. I also need to be in Vancouver BC by noon tomorrow to pick up Rusty and Chris when they fly into the airport.
Here is the shot with the Touareg packed and ready to head out.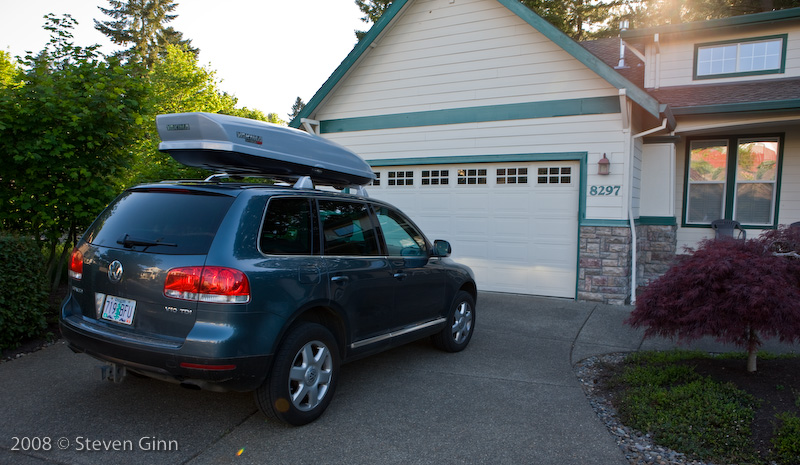 Since I started fairly late I did not get all that far, so I stayed at a Howard Johnson's Hotel in Tacoma.
---
Day 2 (Saturday, May 17, 2008)
Howard Johnson's Hotel (Tacoma, WA) to Executive Hotel Vintage Park (Vancouver, BC)
Today was a fast and pleasant drive up to Vancouver, I arrived at the airport about an hour earlier than I had planned on. But other than long waits while Chris and Rusty both separately arrived and made it through customs the airport pickup went smoothly.
Here is a shot of us loading everyone's gear into the Touareg at the airport.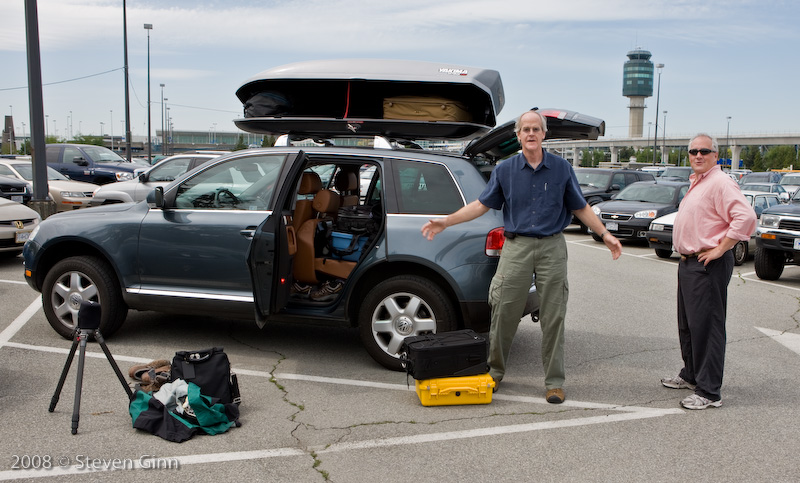 The hotel we are staying at, Executive Hotel Vintage Park, is pretty pleasant, however, check-in was rather painful due to a significant overbooking situation, they were even turning away members of a wedding party, but Chris persevered and we ended up with a couple of very nice rooms for less than the price of one. We were suppose to have one large suite, but in the end Chris has his own room and Rusty and I are sharing a room with a fairly comfortable pull-out as the second bed.
Here is a shot of the hotel.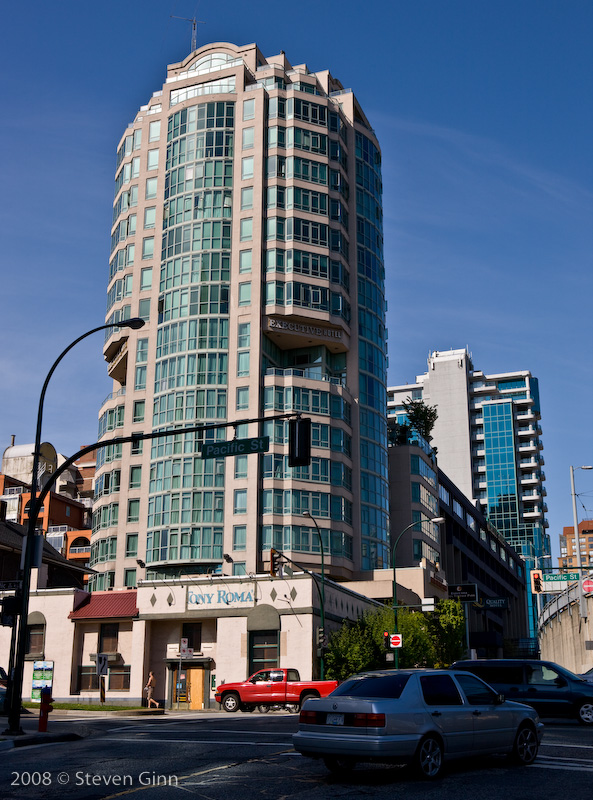 The hotel was not perfect as Chris found out when arriving in his room he found it very hot. Here is a shot of Chris on the phone talking to the front desk about the air conditioning unit that was running in the middle of the room. Rusty and I were somewhat dubious that running it that way would do anything more than just heat the room up even more.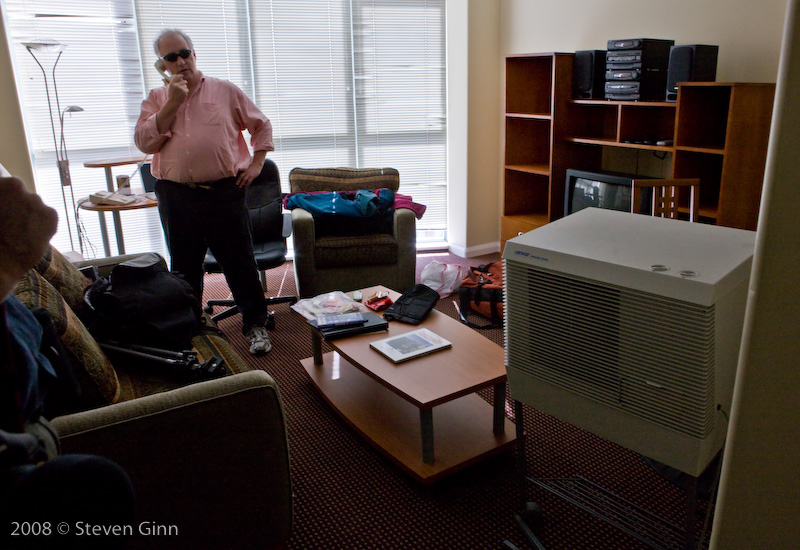 After getting settled into the hotel we decided to make our way over to Granville Island for an early dinner. We walked down to the waterfront and hopped on to this water bus for $2.50 each. Notice the tiny little 10 horse outboard, fortunately we didn't have far to go.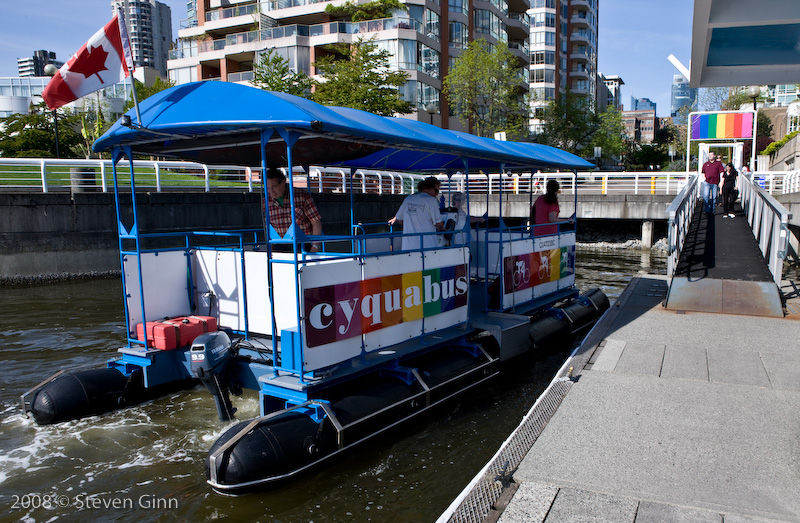 Granville is a small island with lots of shops and restaurants on it.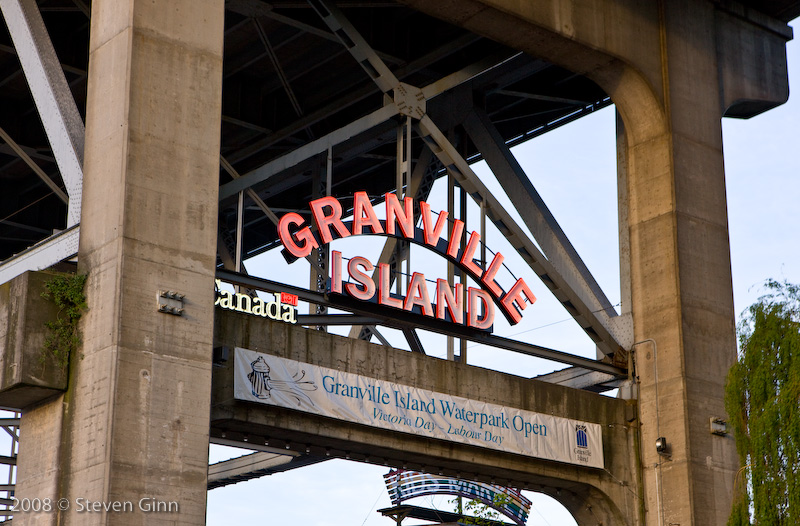 After landing on the island practically the first thing we saw was this group of ladies with their red noses!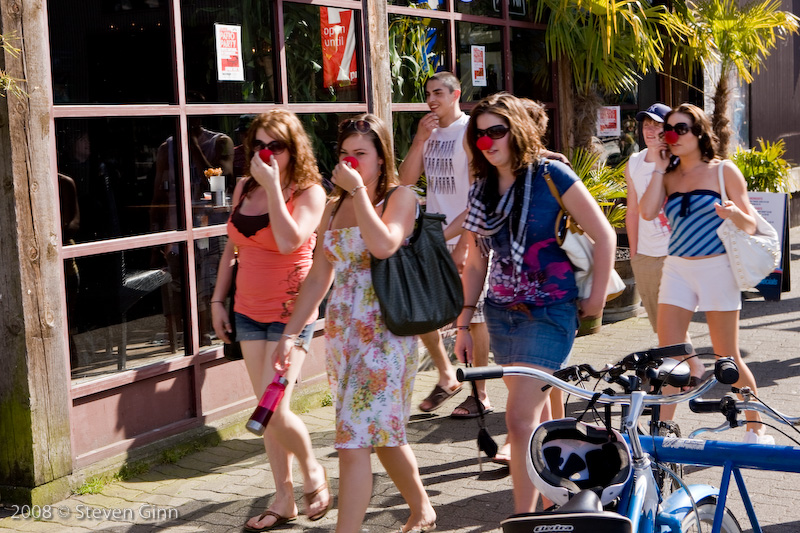 We were all hungry so the first thing we did was find a restaurant to get something to eat. We ate at Bridges which was a place that Rusty had eaten at on a previous trip to Vancouver.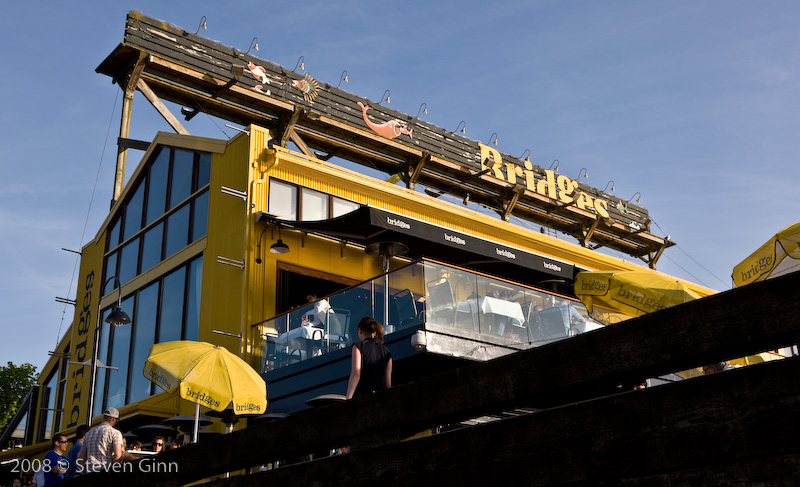 Both Chris and Rusty were starving due to their long flights so we in quick order demolished numerous appetizers and a full meal each. The food was pretty good, we each had various seafood dishes and we ate it all. With everyone finally full these two started playing with their cameras.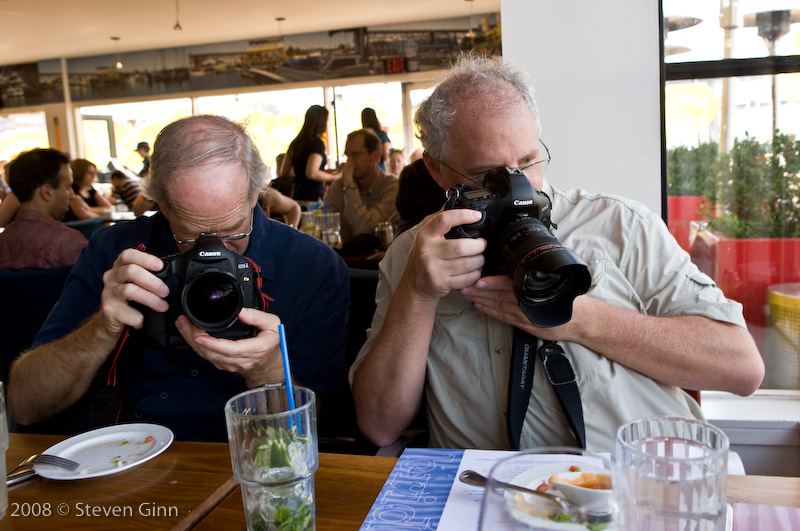 After dinner we started walking around the island. I had to wonder what this guy was up to carrying a large bag of what looked like dried apple slices.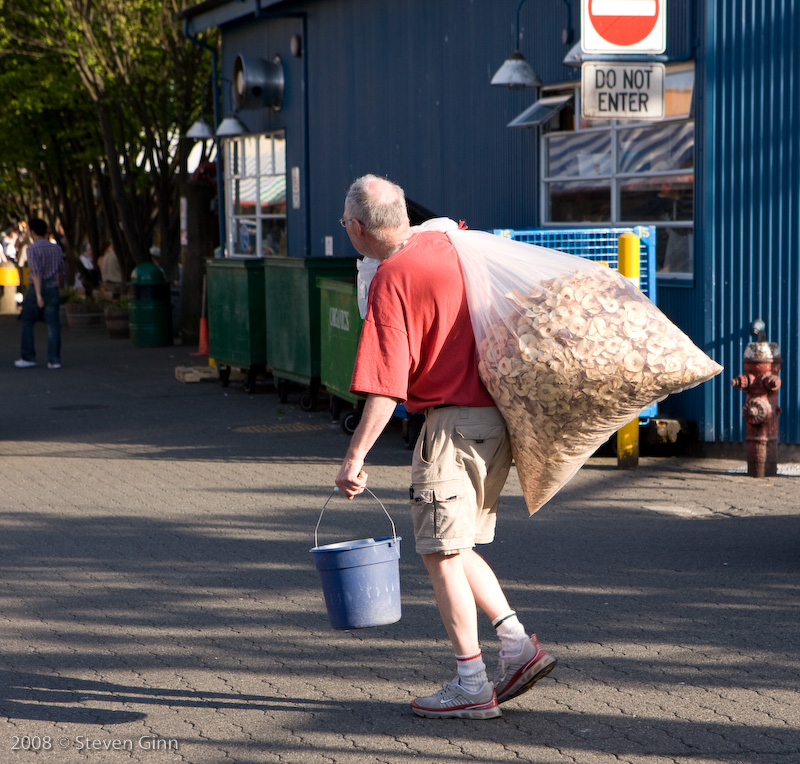 We found a large market that we enjoyed walking around in for a bit.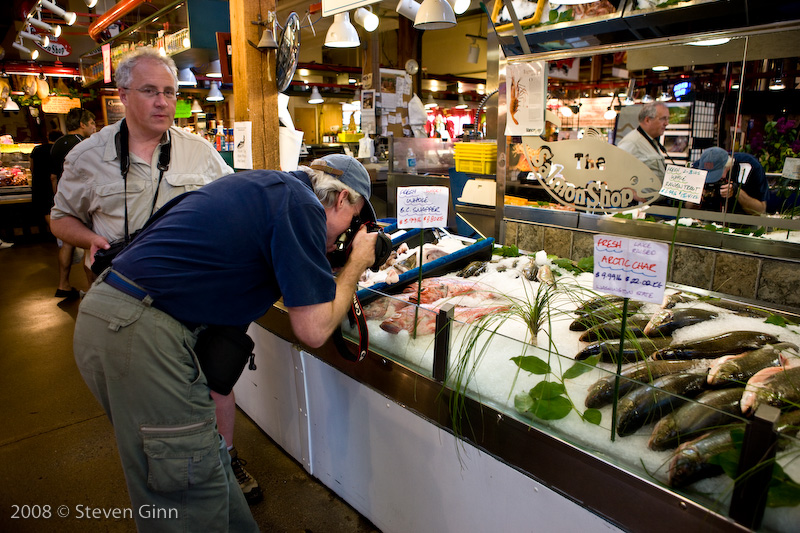 Rusty and Chris could not resist taking shots of the Dino-Bones!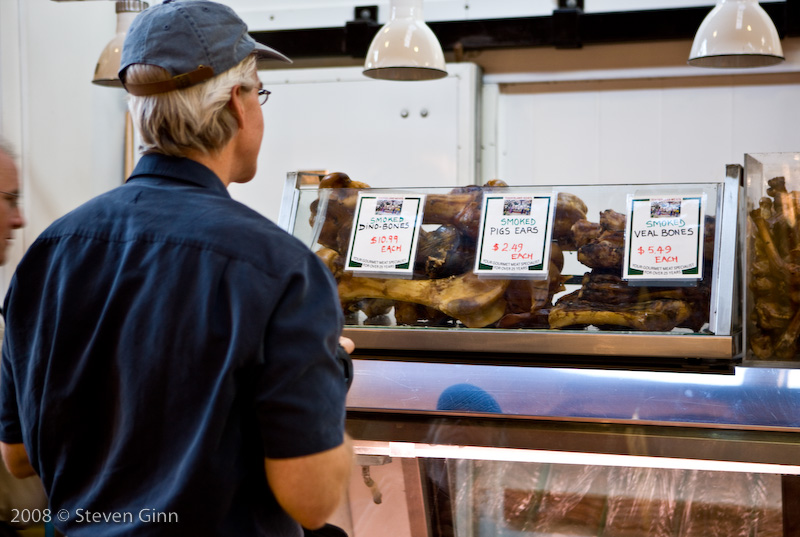 I myself was still hungry so I was thinking of prawns.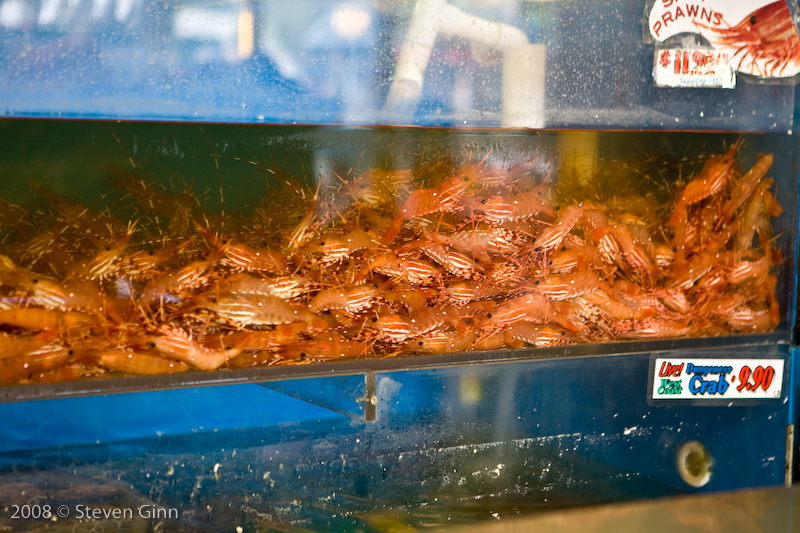 I also decided to try for a classic veggie shot.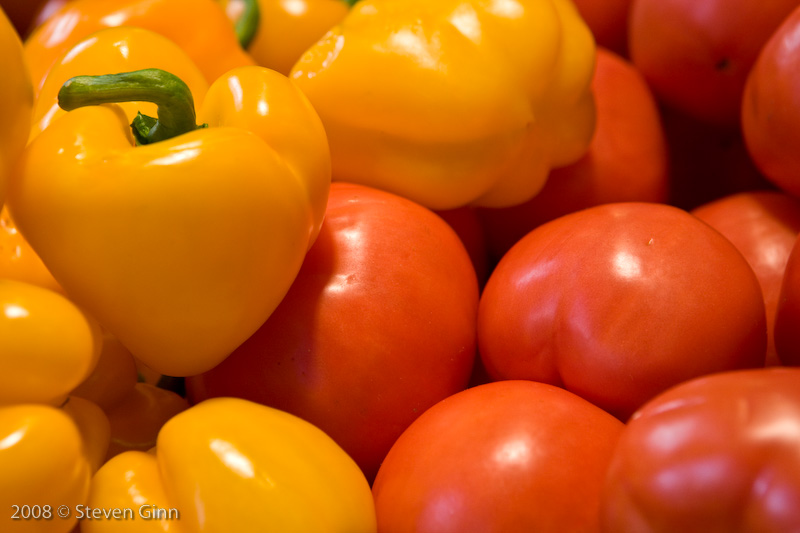 After the market we kept walking some of the streets on the island. This is a shot I liked due to it's simple colors and textures.
You might be surprised how long the three of us stood in the street taking photos of the side of this building!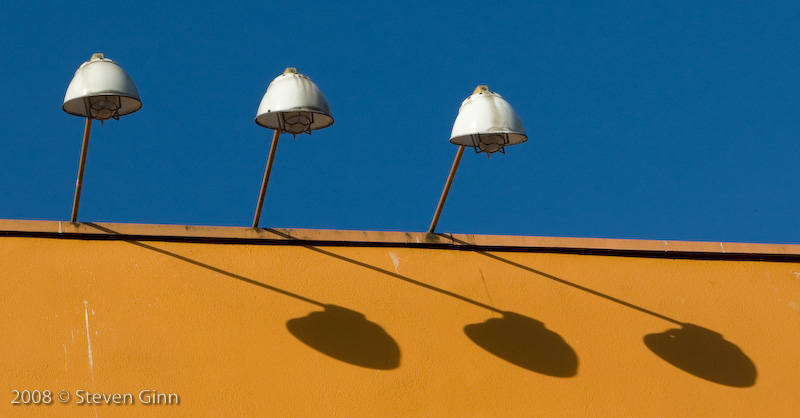 Here is my favorite shot of the day.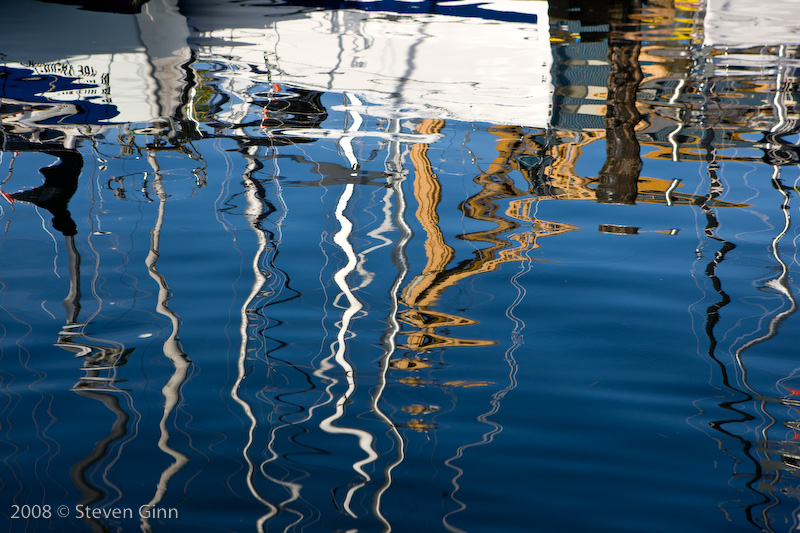 Here are some token flower shots from the walk back to the hotel.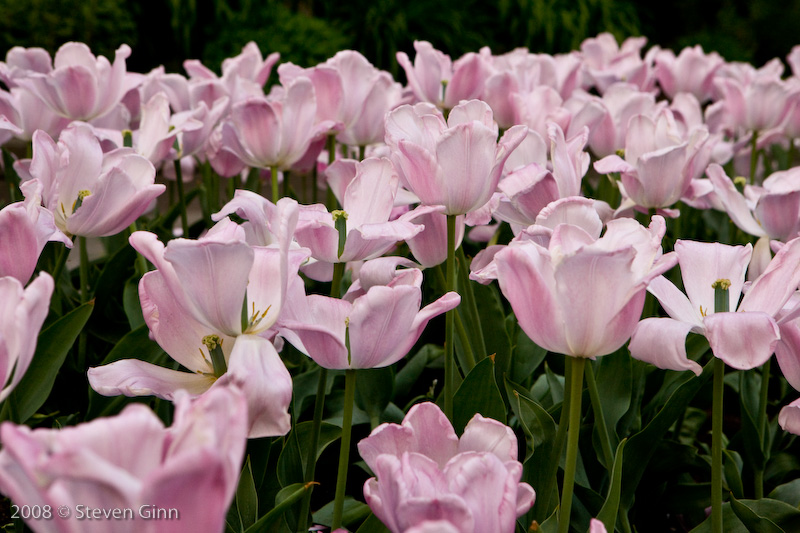 And here is the final shot of the day of sunset from Rusty and my hotel room's balcony using Rusty's new 14mm lens.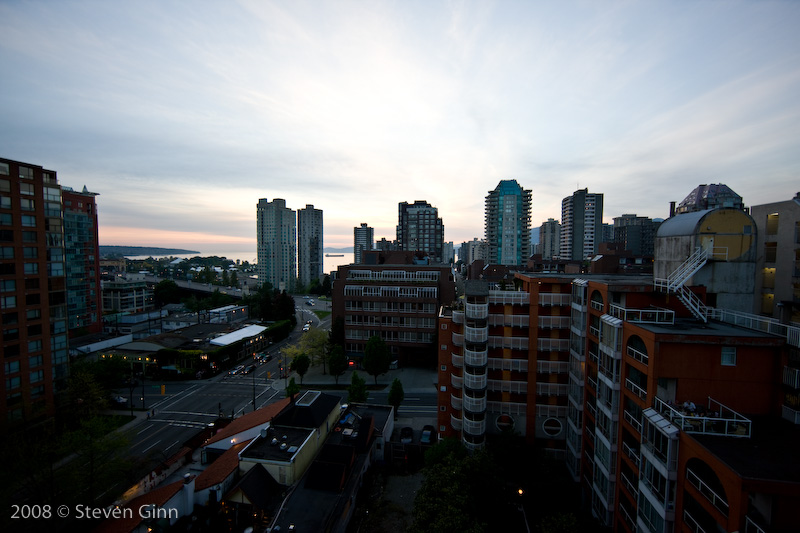 ---
Day 3 (Sunday, May 18, 2008)
Executive Hotel Vintage Park (Vancouver, BC) - Self Tour of Vancouver BC
Here is a late sunrise shot a little after 7:30am from our hotel balcony.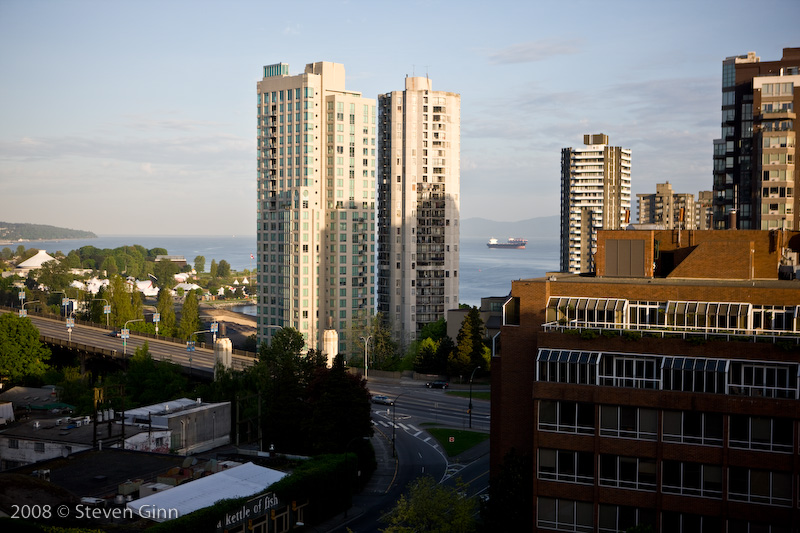 Our goal today was to explore the town. We walked from the hotel a mile or two over to China Town and explored around. It is a very urban area with a lot of homeless in the neighborhoods adjacent to it.
Here is a shot of Rusty trying to get run over in the middle of the street as he takes a close-up of this building.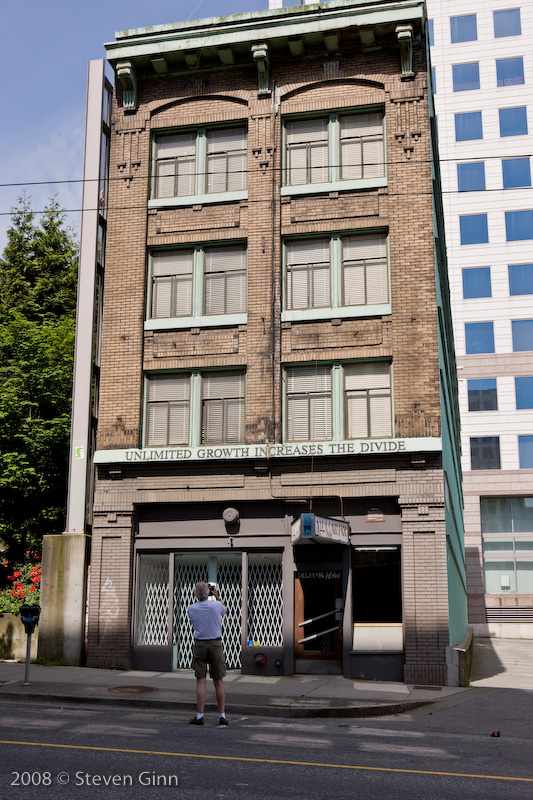 Chris, looking for a gap for his camera in this fence.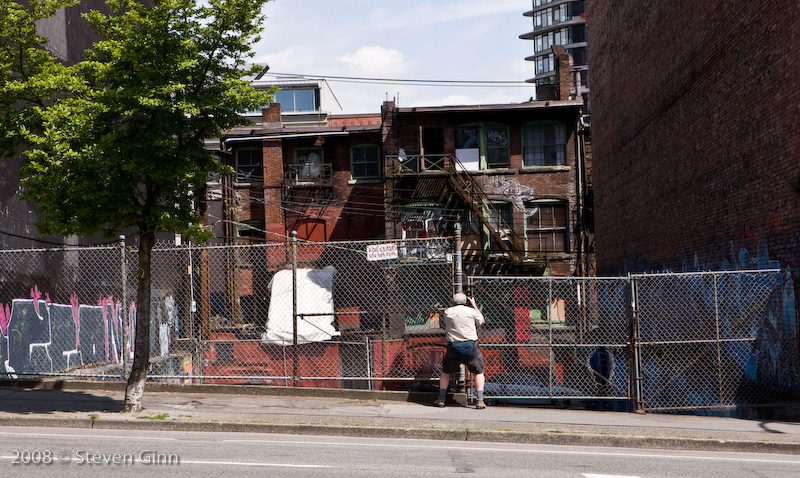 Chris asked a shop clerk for recommendations for a place to eat lunch. The resulting directions where a little weak but after three more quires in various shops and random people on the street we finally found ourselves in a very nice and very large Dim Sum joint.
Here is one of the items that was not as good as it looked.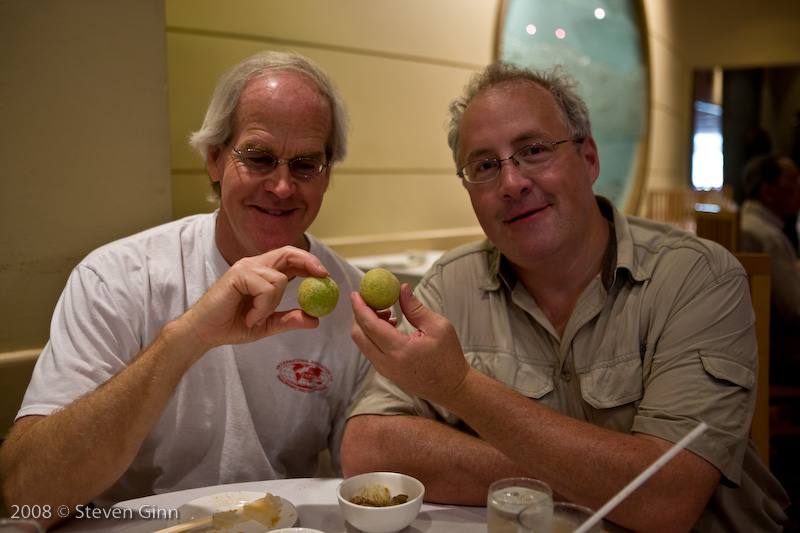 Rusty took a photo of me, with my camera, having some sort of sweet custard for dessert.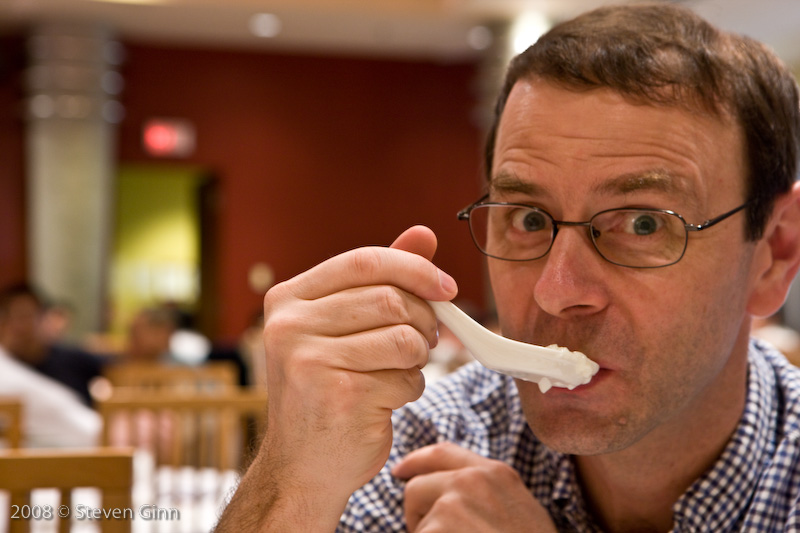 After China town we walked through Gas town and wandered by this site which is apparently a famous site to see. It is a steam clock that whistles a tune every 15 minutes or so. I believe the clock itself runs on steam power as well.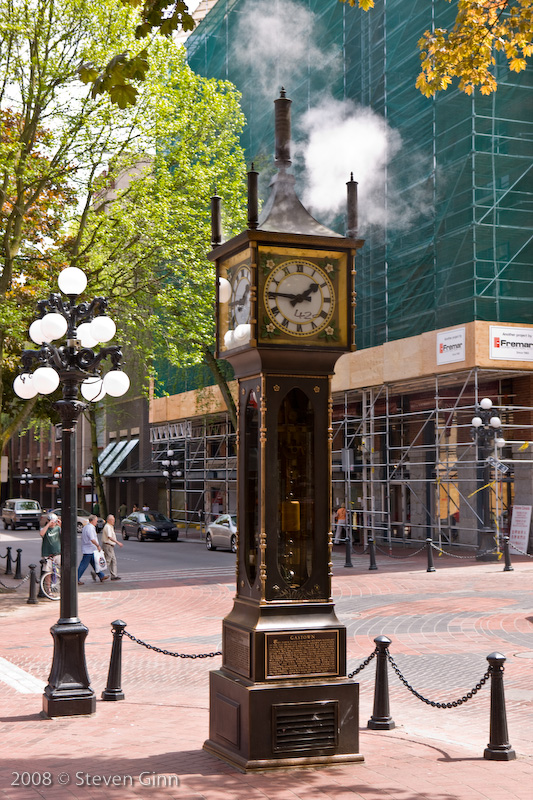 As we walked by the port this guy washing the bow of this very large cruise ship struck me as interesting.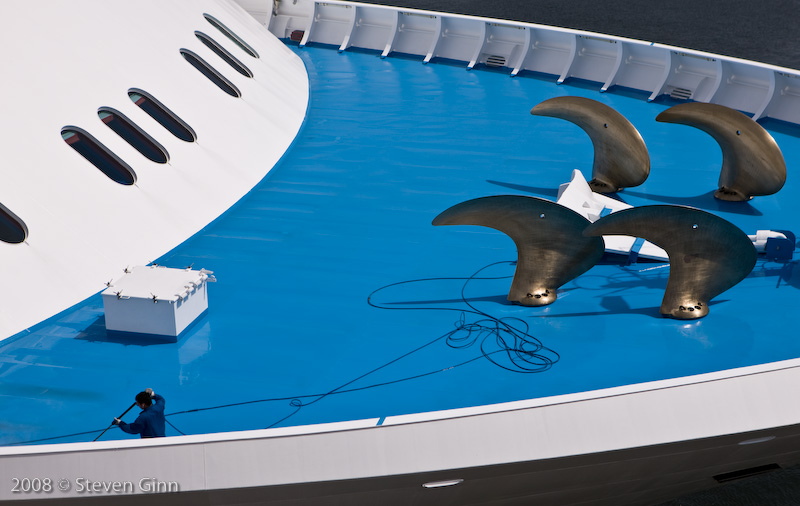 We finally took a taxi back to the hotel after quite a few hours of walking around town. We then drove out to this suspension bridge in Lynn Creek. Our information said that it was one of the lesser known places to go, but if that was really true I'd hate to go to a better known place.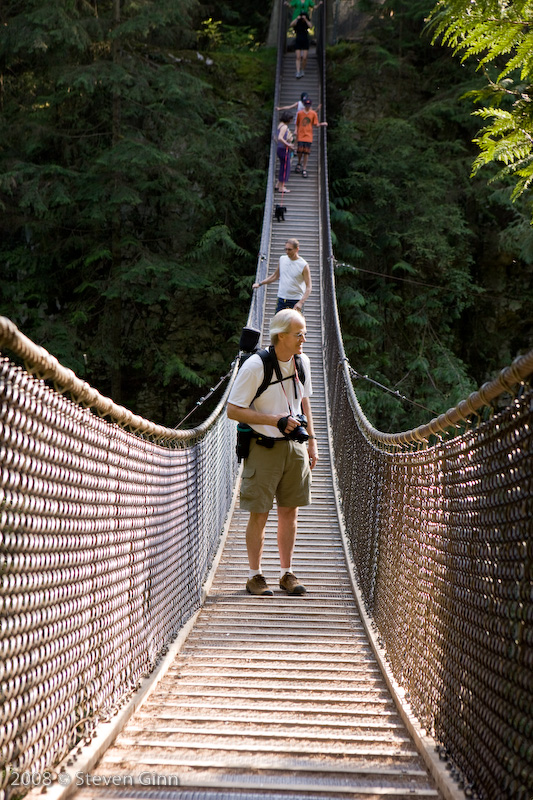 Tomorrow, the workshop starts.
Click here to return to the 2008 Vancouver BC Photo Workshop index page.