| | |
| --- | --- |
| | 2010 Death Valley Trip |
Click here to return to the 2010 Death Valley Trip index page.
Day 10 (Friday, April 16th, 2010)
Stovepipe Wells Village (Death Valley, CA) to La Quinta Inn (Reno, NV)
We left Death Valley this morning by going east on Hwy 374 to Beatty and then north on Hwy 95. Our plan was to spend a day and a half and take the scenic route back to Reno. However, the trip ended up going much faster than expected. There was very little that interested us to photograph, mostly just high desert.
On the way north on Hwy 95 we stopped at the old gold mining town of Goldfield. While it's not a ghost town, there are certainly parts of it that look that way, see the next four images.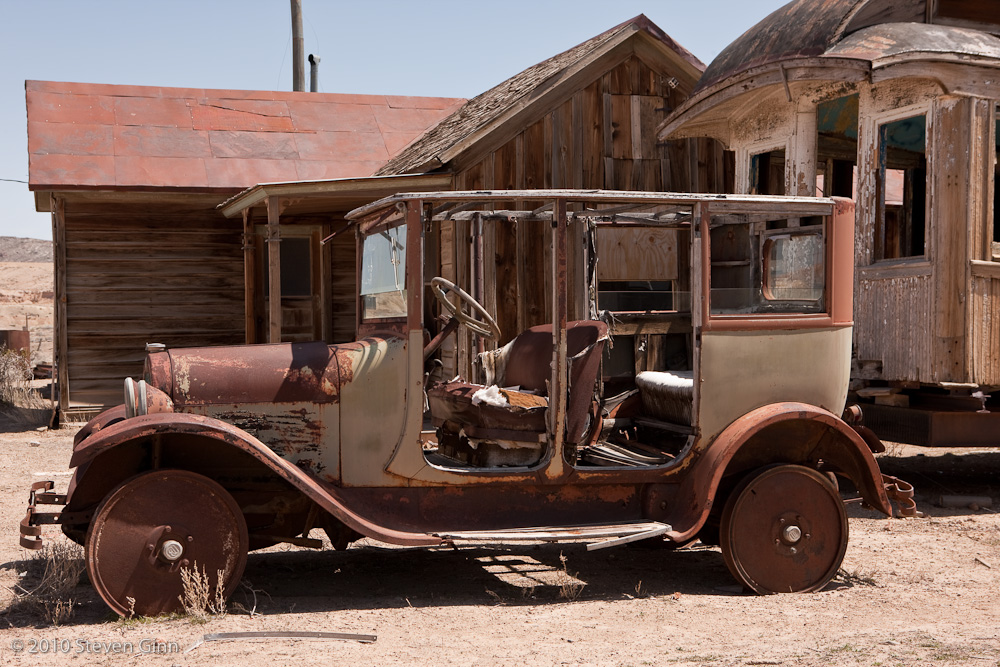 Once Hwy 95 ended we continued north on Hwy 376. The map we were using showed it as a scenic highway. We had hoped that it might take us up into the mountains but it followed the Smokey Valley north, which was a high desert with tall mountain ranges on both sides. The image below shows us just coming into the valley and about to take the bend right to follow it north.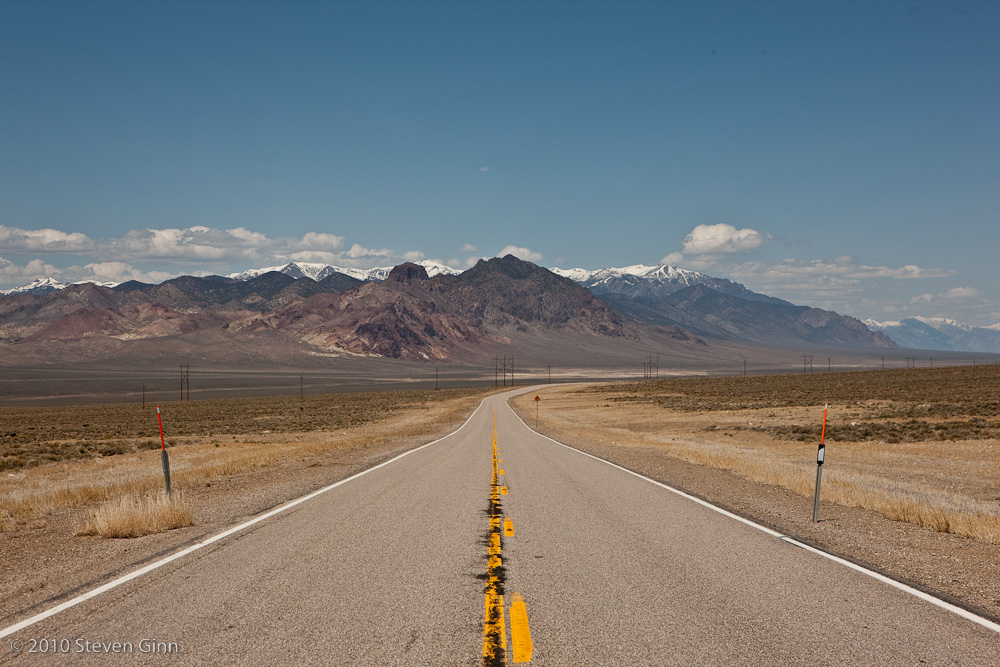 When Hwy 376 ended we took Hwy 50 west towards Reno. This did take us back up into the snow briefly before going through a series of large high desert valleys on our way west.
It was amusing to stop in Austin NV to buy gas since Rusty is from Austin TX. Below is a picture that shows most of the town.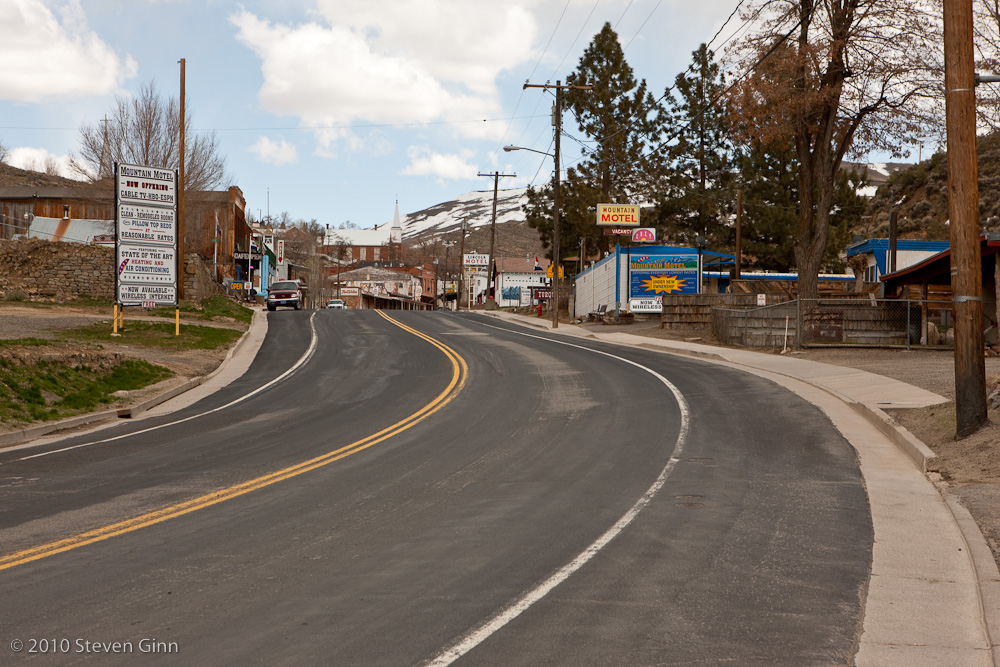 On our way west we did spot one more large sand dune. The map calls this Sand Mountain. It was clearly an ATV mecca, we could see them zooming all over the dune.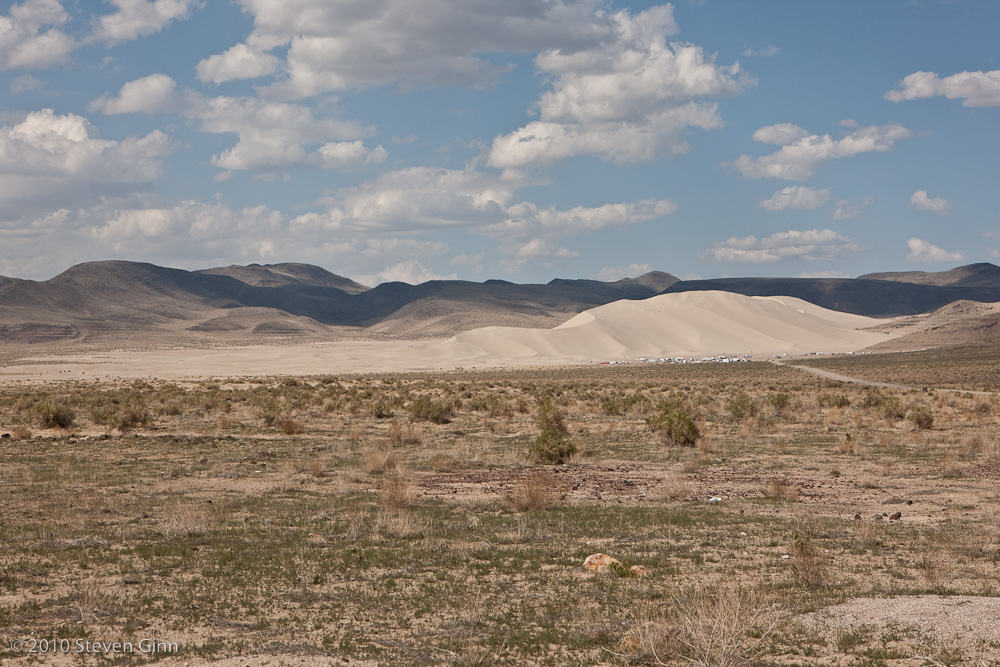 The net result is that instead of taking a day and a half to get to Reno, we were there before dinner time. So we stayed near the airport and Rusty moved his flight up to early morning the next day.
For dinner we went out to the highest rated sushi place we could find in Reno, there were at least 10 different sushi places. They did not take reservations so we waited 45 minutes to get a seat, fortunately they served drinks while we waited. It turned out to be an all you could eat Sushi place so we ate a lot of very good sushi for a minimal price.
---
Day 11 (Saturday, April 17th, 2010)
La Quinta Inn (Reno, NV) to Home (Beaverton, OR)
Rusty got up early this morning and took the hotel shuttle to the airport. I tried to sleep in but ended up getting up and was on the road headed north by 7 AM. This gave me enough time to drive all the way home to Beaverton, arriving about 4:30 PM.
Since I had extra time, I took the scenic way back. I drove Hwy 395 north to Susanville, CA then instead of heading over to Mt Shasta and I-5 I continued north on Hwy 139 toward Klamath Falls. From Klamath Falls I took Hwy 97 north to Hwy 58 northwest to catch I-5 in Eugene. I have never driving Hwy 139 before and it turned out to be very enjoyable and felt like a very remote back country drive. Although there was a surprising number of gray squirrels that kept trying to run under my tires, fortunately I missed them all.
I only stopped once to take a photo of an old farm along Hwy 139.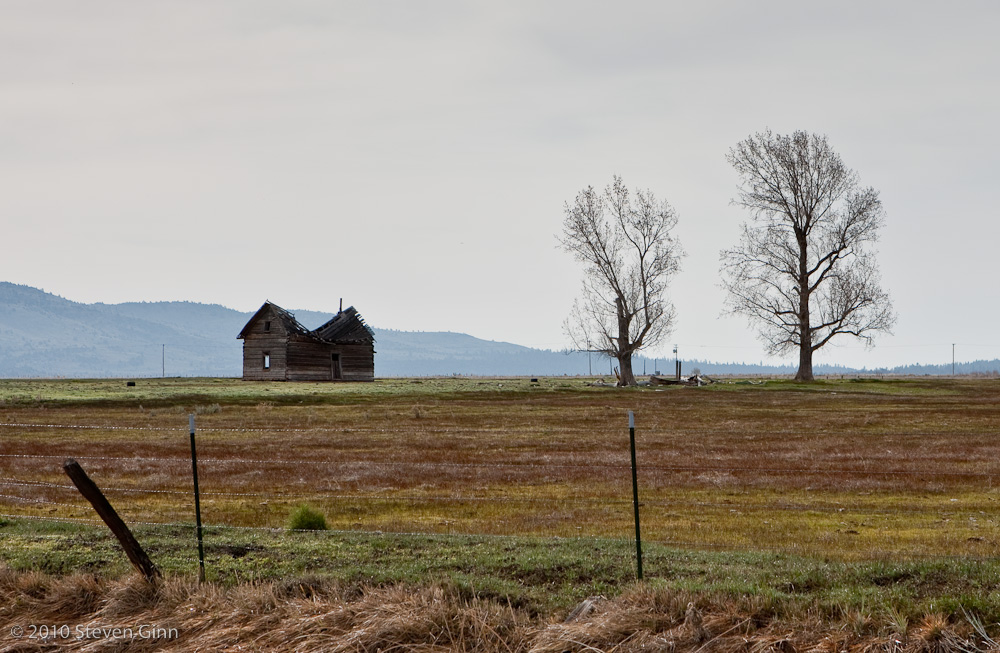 After making it home a friend came over and cooked me a dinner of mushroom risotto. Very nice! :-)
Click here to return to the 2010 Death Valley Trip index page.