| | |
| --- | --- |
| | 2007 Alaska Road Trip |
Click here to return to the 2007 Alaska Road Trip index page.
Day 8 (Thursday, August 23, 2007)
Dawson Creek to Stone Mountain Provincial Park (Summit Lake Campground)
Note: Starting with this journal entry I am including some of Tony's photos. Unless otherwise mentioned the person taking any given photo is indicated by the copyright watermark on the photo.
This was our first day officially on the Alaska Highway. Our first stop was the one original bridge still in use. It was the Kiskatinaw River bridge and while it is still in use it is no longer part of the main road but is a short scenic drive off the main road. One interesting feature of this bridge was that it is a curved bridge, see the photo below.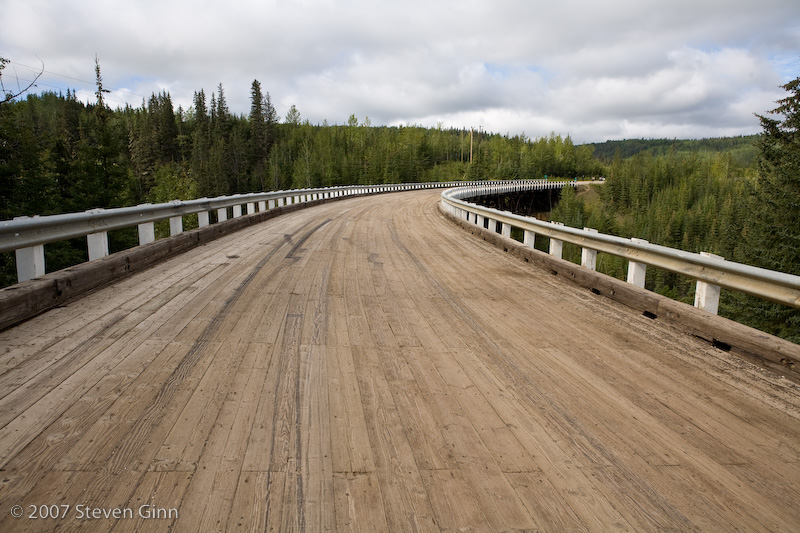 Here is me demonstrating that the bridge is indeed still in use!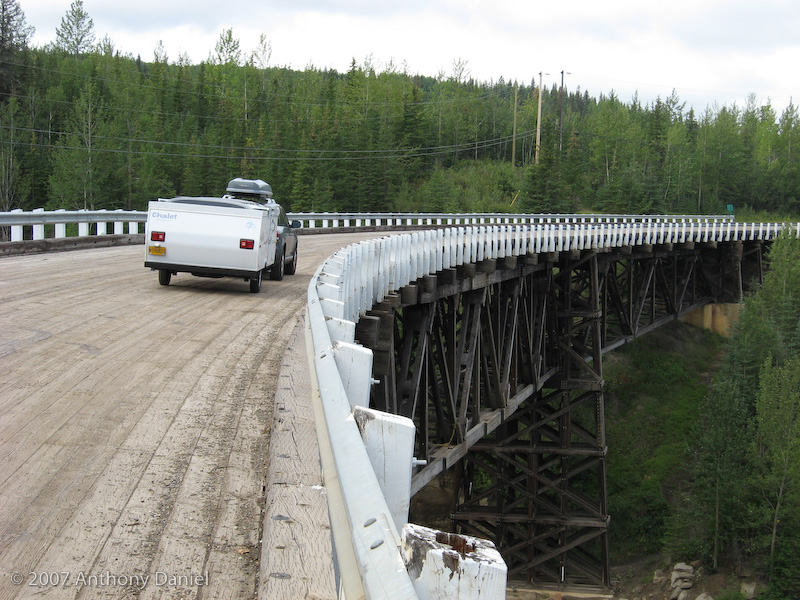 We stopped at a look out over the Peace River. The scene here was a lot different, see Tony's photo below. Large gas lines ran into town. I'm not sure what they were doing with it. The guide book seemed to be impressed with the blue bridge.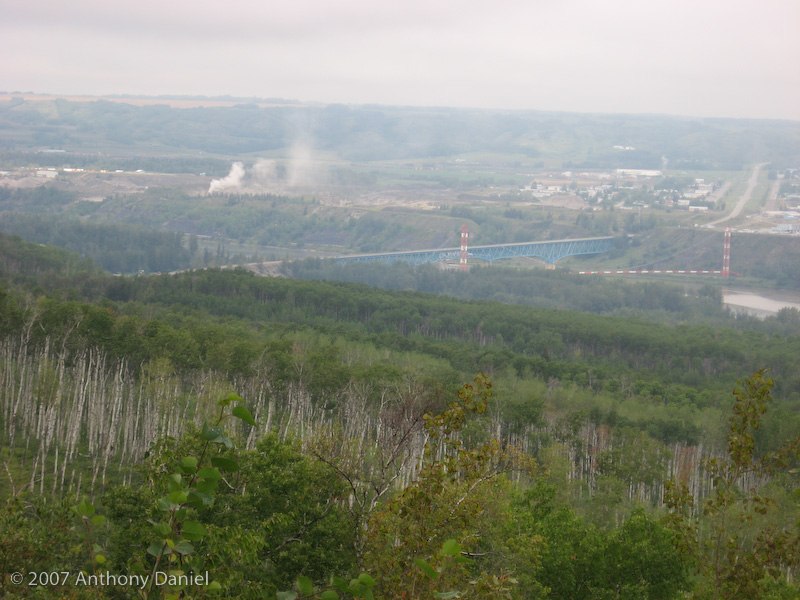 In case you are wondering what most of the day is like for me, here is a photo that Tony took.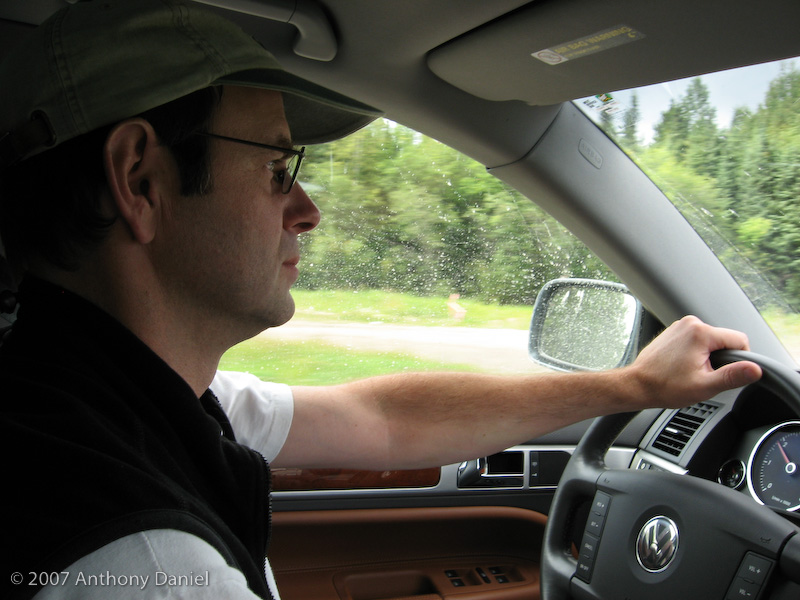 Long stretches of the road are just a cut in the forest. Fortunately, in most places there is a fairly wide border between the road and the forest to enable you to see animals before they jump in front of you. There is a lot of effort that goes into keeping it mowed down and in some places it is overgrown to the point of not doing any good.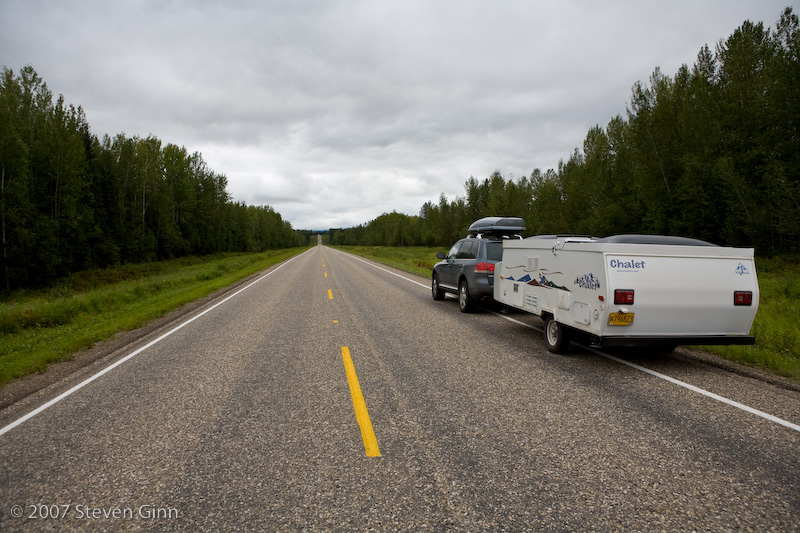 Very shortly after seeing a sign to watch out for Caribou on the road we saw our first one.
Below is a photo of our camp at Summit Lake Campground in Stone Mountain Provincial Park this evening.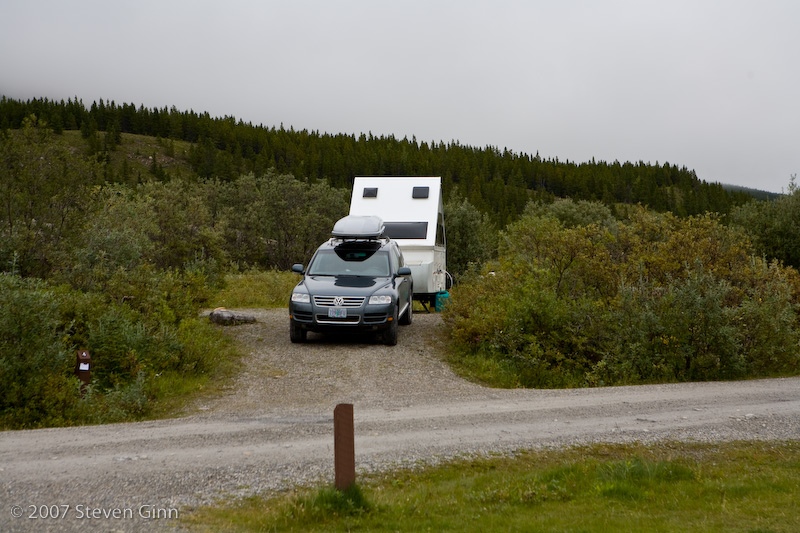 ---
Day 9 (Friday, August 24, 2007)
Stone Mountain Provincial Park to Liard River Hot Springs Provincial Park
It was very cloudy, foggy and drizzily this morning, but I got up and took a few photos around the campground. I liked the one below.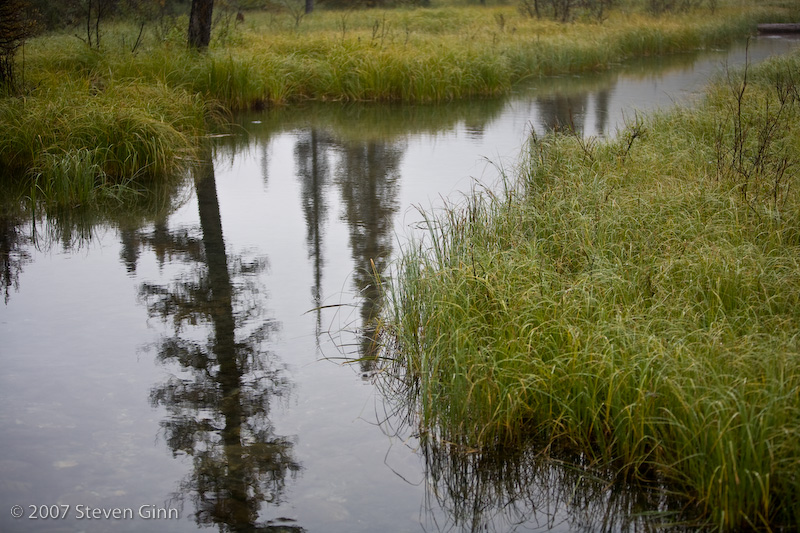 Despite today being a short drive, see below, today was a big day for seeing wildlife on the road. Here are some sheep we saw shortly after leaving camp that we believe are called Stone Sheep.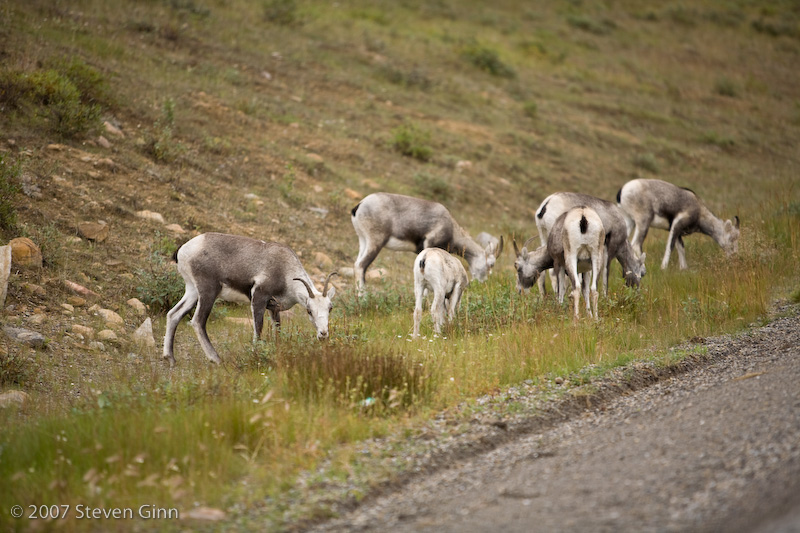 Below is a shot Tony took that shows the typical view we saw while driving today.
At one point I like the way the mountains and clouds looked together and I stopped and setup the camera on a tripod and took the following image.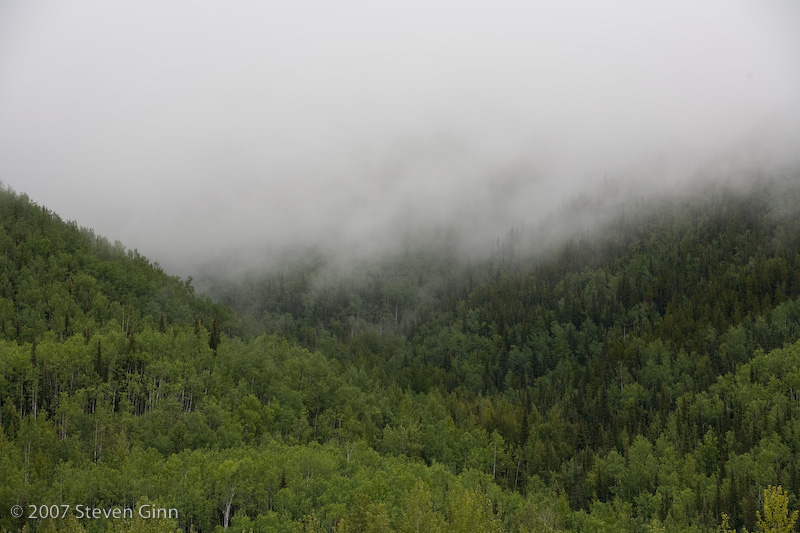 More wildlife on the road, it was a cow moose and her calf.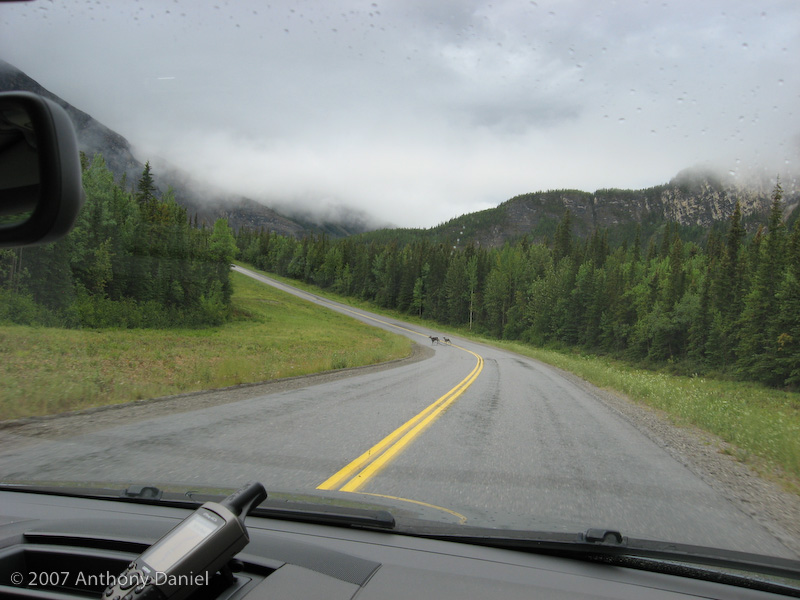 Yet another moose, fortunately both the on coming tanker truck and I were able to slow down in time to allow the moose to cross the road safely.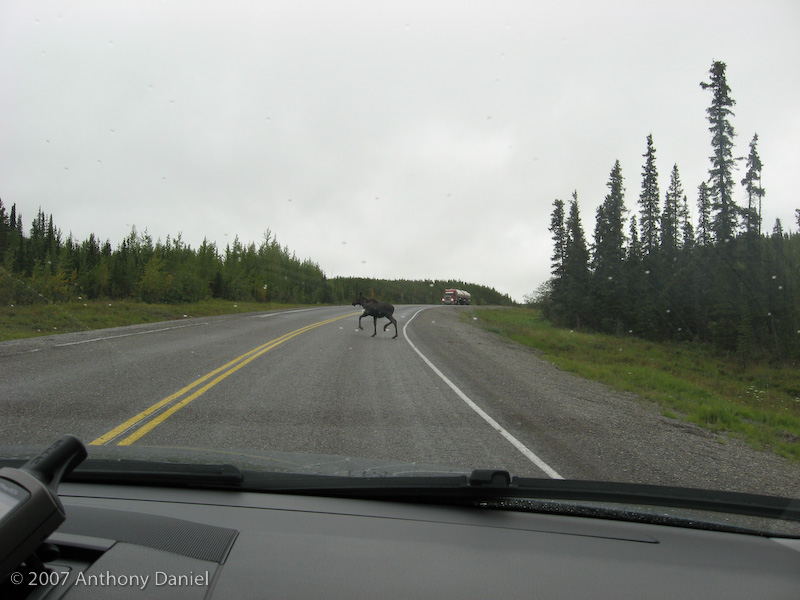 Maybe there is a theme developing here, but here is another road shot, this time Tony used my camera while we where driving down the road.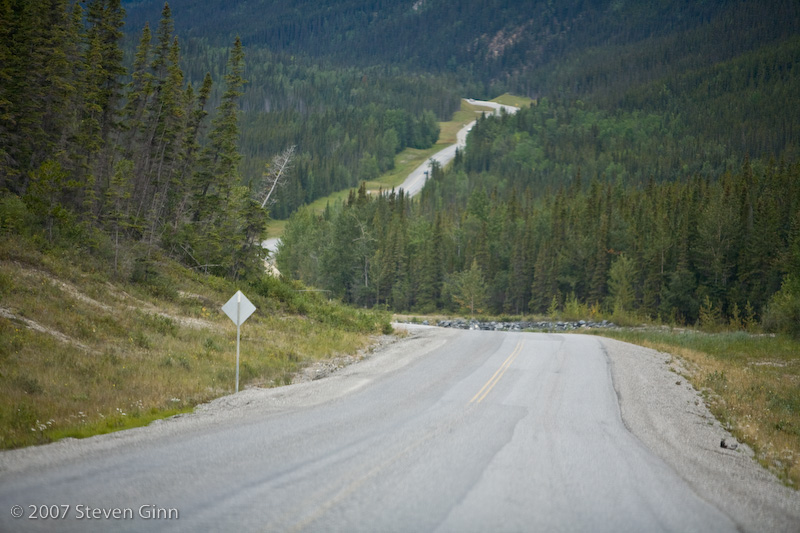 After about a short two and a half hour drive from our previous camp we reached Liard River Hot Springs. Based upon multiple recommendations where people had said that it was a must see place we had planned to stop and take a look and move on. However, it looked so inviting we decided to camp here for the night and spend the day in the hot springs. The following is a photo of the hot springs pool which was about a kilometer walk from the campground on a boardwalk.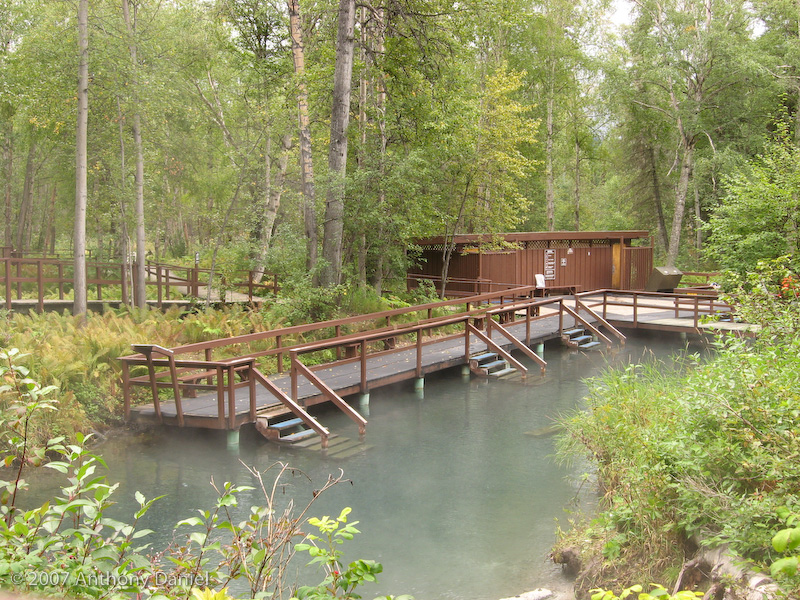 Both Tony and I soaked in the pool for some time in the early afternoon and I went back for another soak during the late evening. There are two hot spring pools but the trail to the second one was closed, according to the sign, due to bear danger. The challenge was to slowly work your way towards the spring where the hot water was coming out of the rocks, it was VERY hot and I was able to only get within a few feet for a few seconds.
It was entertaining during the late afternoon watching and listening to the park ranger chasing a bear out of the campground. We did not actually see the bear but heard that one had been spotted by several campers that morning and I talked with the Ranger as she was actively trying to find one that had been spotted that afternoon. We also heard them set off noise makers, think fire crackers, to chase the bear off. Upon further enquiry we learned that ten years ago two campers had been killed by a bear in the campground. I was very happy to have my nice hard sided pop-up trailer.
My trailer is unique enough as a hard sided pop-up A-frame that we get lots of curious people asking about it or just looking at it from the road. Interestingly enough I looked up from cooking dinner and discovered that another Chalet trailer had pulled into the next site over. So I went over and introduced myself and we talked about modifications we have both made or thought of making. One interesting, but unintended feature, theirs had from a previous trip was a bear bite out of the corner of the front storage lid. Apparently the bear had been trying to go after some garbage that was stored in there.
Tomorrow the intention is to try to make up for the lack of mileage today.
---
Day 10 (Saturday, August 25, 2007)
Liard River Hot Springs Provincial Park to Wolf Creek Government Campground (near Whitehorse)
Here is a photo of last night's campsite at Liard River Hot Springs. They were very nice spots with 20 to 50 feet of forest between each site.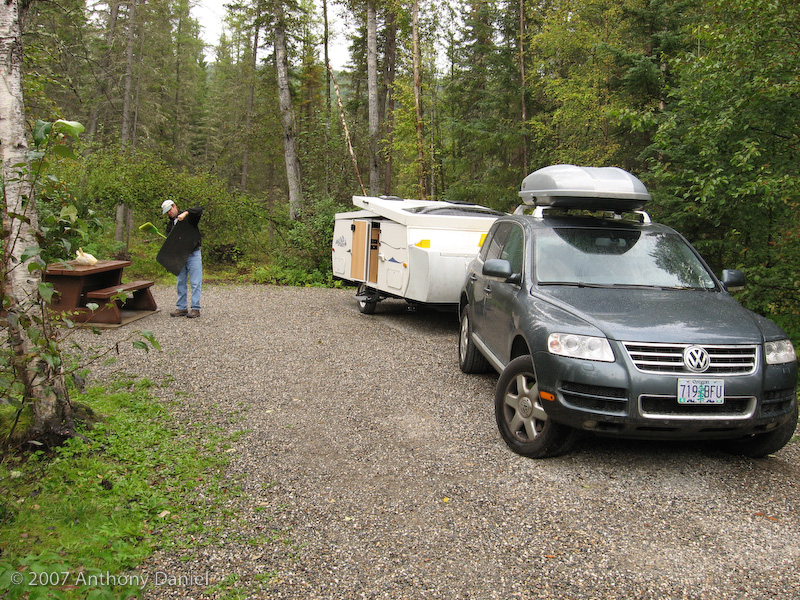 To make up for yesterday's short distance traveled, today we started earlier and stopped later. We saw a lot of these signs.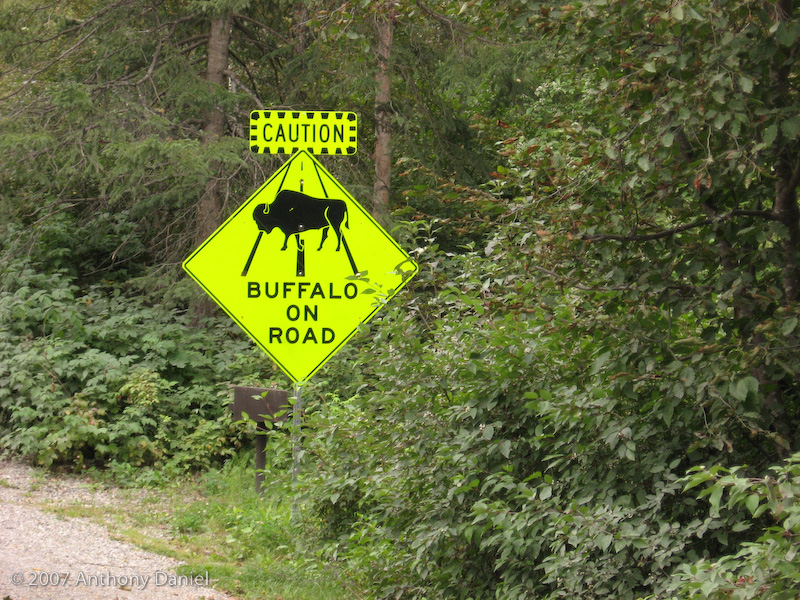 Then we saw these Bison on the road. There were two large bulls on each side of the road that I briefly worried would charge across the road crushing us in between just as we passed. However, as we went by they did not move one bit.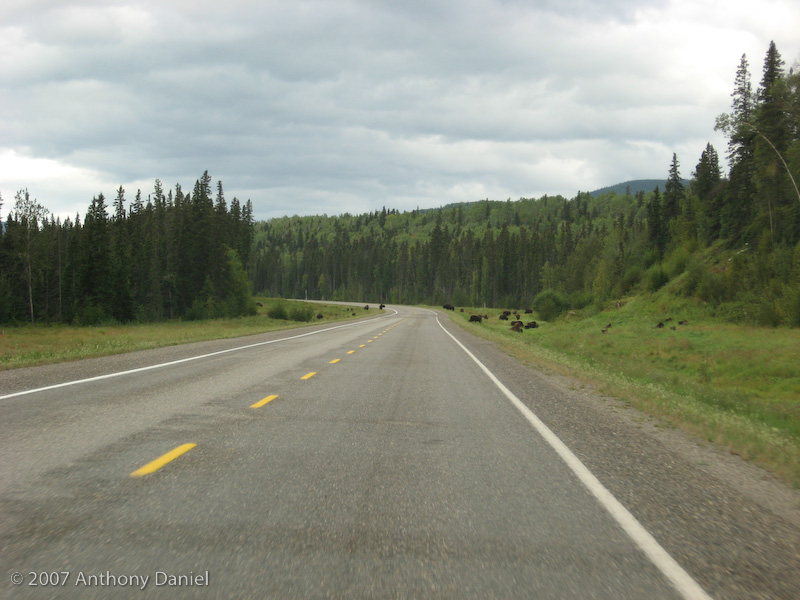 Here is a photo that Tony took from a scenic overlook over the Liard River.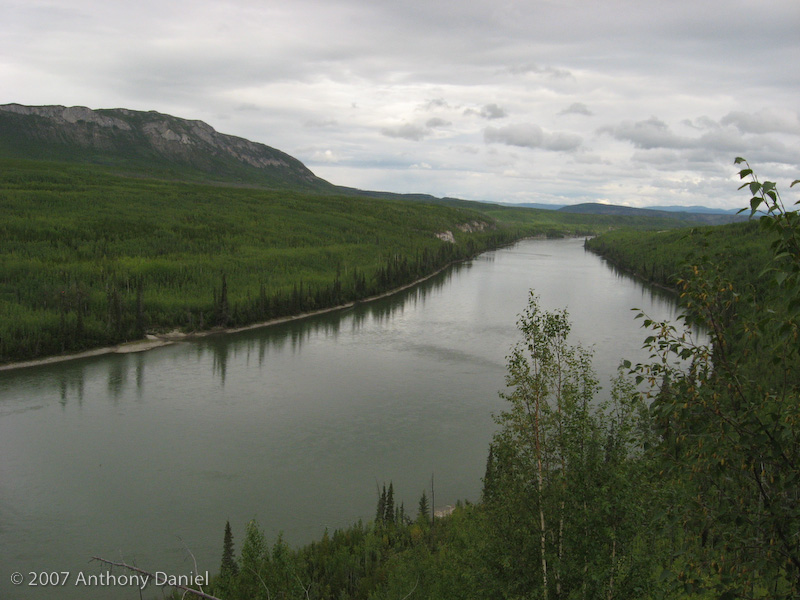 One of the more famous spots on the Alaska Highway is the forest of signs at Watson Lake. I believe I saw a sign at the visitors center that said that currently there was more than 65,000 signs.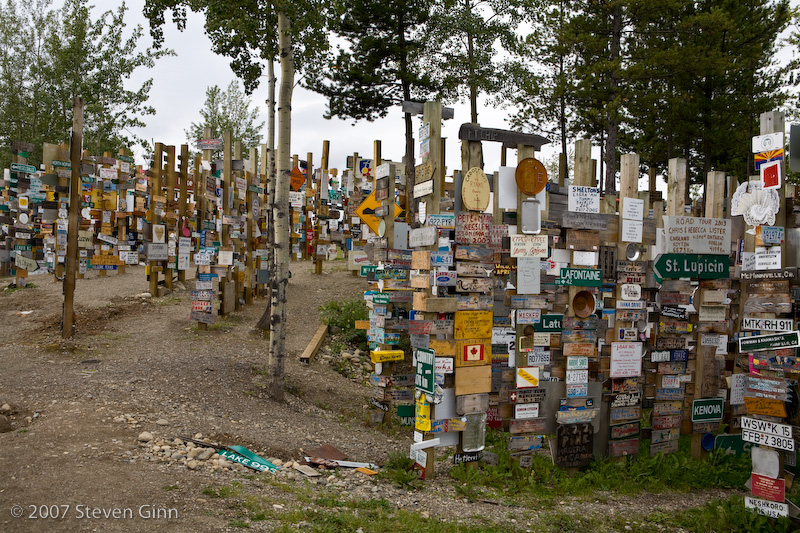 Today was a pretty easy drive, the road was reasonably wide and no animals jumped out in front of us, the Bison don't count since they didn't move an inch as we went by. It did rain on us more than other days. A lot of the landscape we are seeing is scenic (not necessarily in a photographic sense but in a wilderness sense) and fun to look at as we drive along. We actually stopped for lunch today at a little road side pull off called Rancheria Falls Recreation Site in the middle of nowhere and ate a full lunch from leftover's.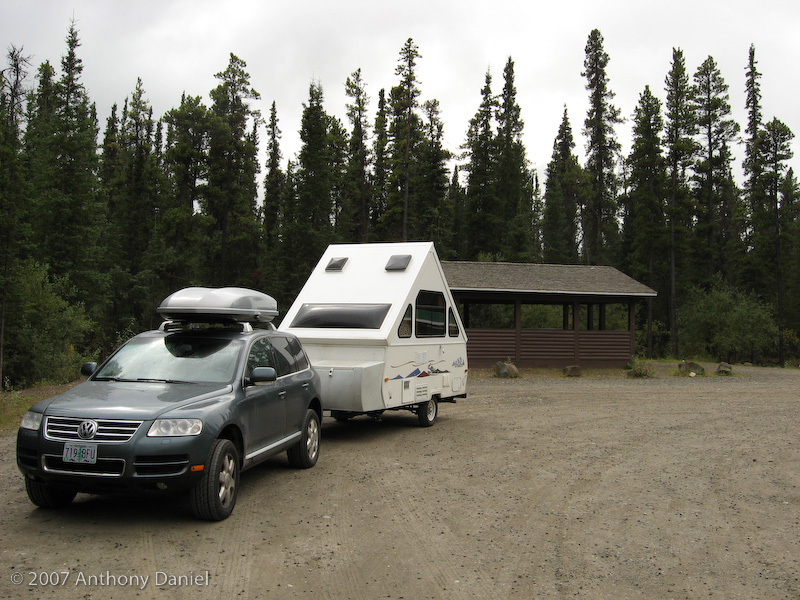 We also took a short hike to the rather unimpressive Rancheria falls. However, I thought the boardwalk trail to the falls was cool, see photo below.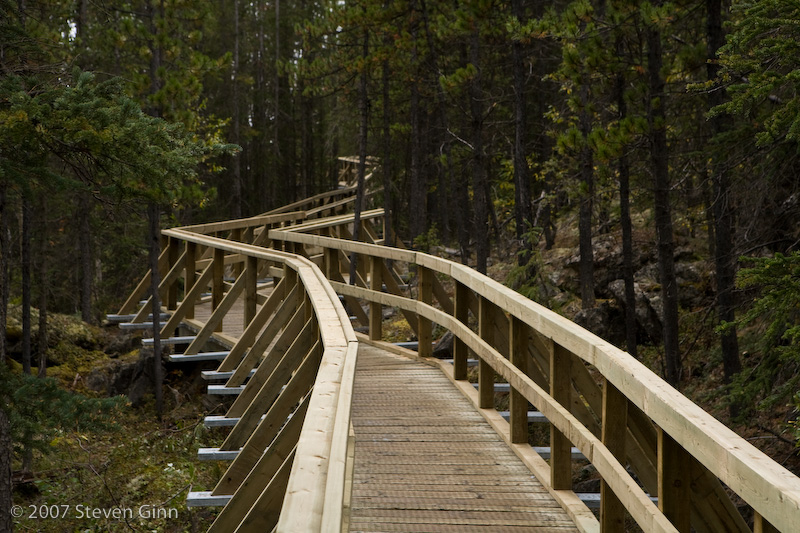 We also made a stop in Teslin and visited the Teslin Tlingit Heritage Centre. This stop was recommended by the Milepost guide book, which is the main guide book for this trip. The most interesting part of the stop was the totem poles.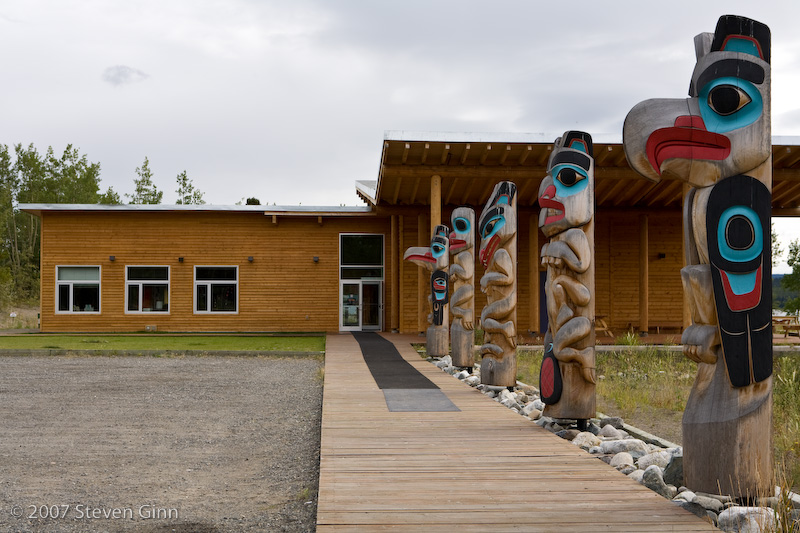 Today we basically have made it to Whitehorse, we are just a few kilometers away staying at our first Yukon territories government campground, essentially equivalent to the BC Provincial Parks. The following is a picture of our campsite tonight.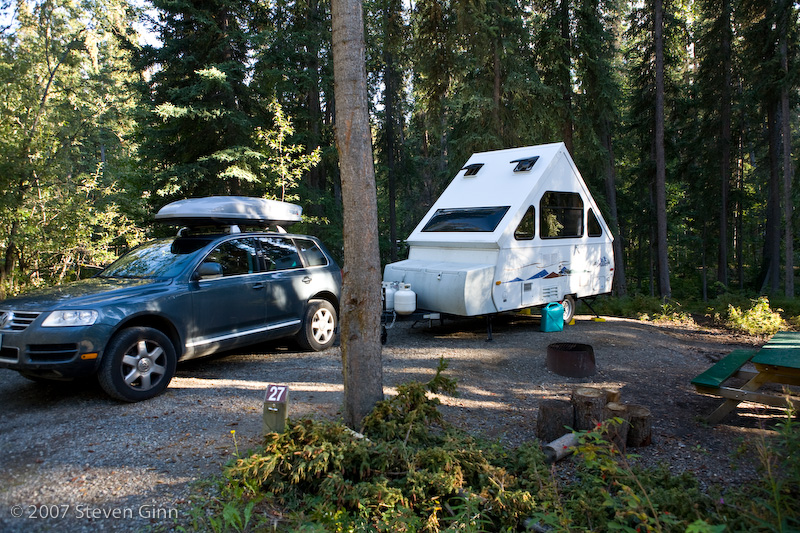 One unique feature of the Yukon government camps is that the wood for campfires is free, right across from our site is a little shelter with a bunch of firewood in it for our use (although it does have a sign on it saying that removing firewood from the campground is an offense punishable by up to 2 years in prison).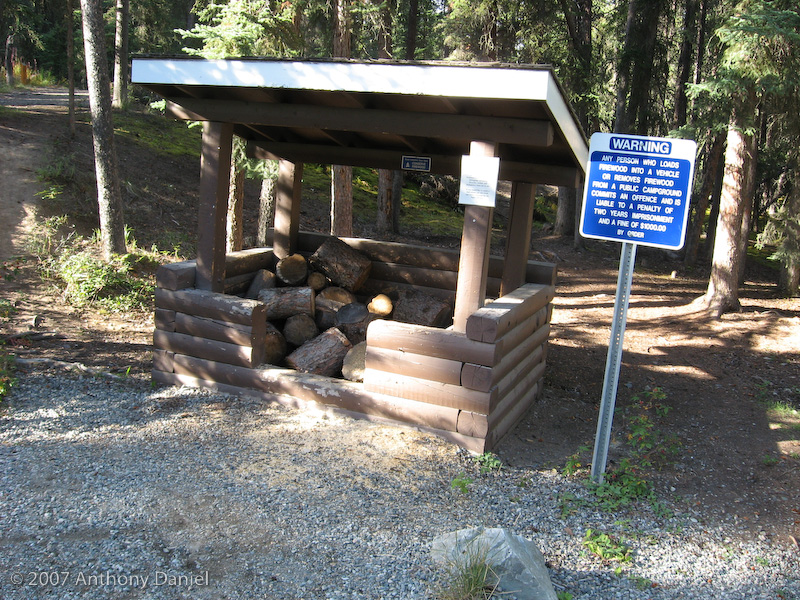 Tomorrow our plan is to go into Whitehorse and find an internet connection, visit a book store for Tony to find another book and buy some more groceries and fuel.
NOTE (Sunday morning): Currently I am sitting in a bakery in Whitehorse, that has free wireless, finishing this journal entry and uploading it, Tony is off walking around town. I'm back to having the problem with my email, I can receive it just fine but for some reason I can not send any. I'll try to work on it some more after sending this entry off. But if anyone is expecting an email reply from me and you don't get it that is why.
Click here to return to the 2007 Alaska Road Trip index page.