| | |
| --- | --- |
| | 2007 Alaska Road Trip |
Click here to return to the 2007 Alaska Road Trip index page.
Day 4 (Continued) (Sunday, August 19, 2007)
Border Crossing and North to Emory Creek Provincial Park Campground
After we left King and Eppie's we headed over to the border crossing at Sumas USA/Abbotsford Canada. The line was short and we had no problems getting across. After crossing we stopped briefly at a visitor's information center and picked up some more Canada travel information. We then headed north on Hwy 1 and made an early stop of it at Emory Creek Provincial Park Campground. There were only a few people in the campground so we had our pick of the best spots.
The following is a photo of our campsite which was right on the Fraser River.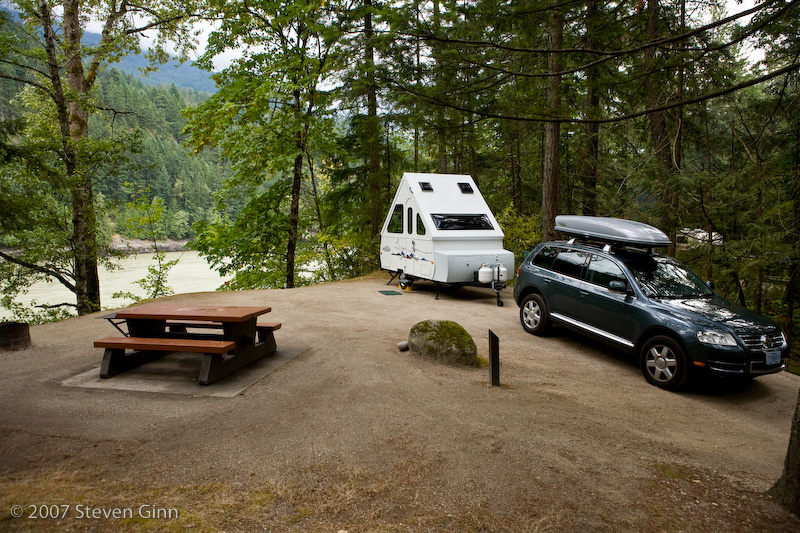 Here is a view of the river from just over the edge of the bank from our campsite.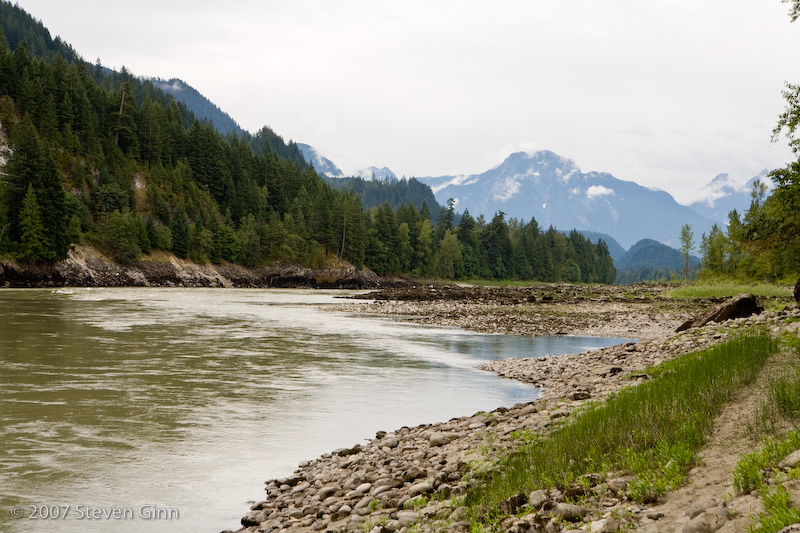 Tomorrow we continue north.
---
Day 5 (Monday, August 20, 2007)
Emory Creek Provincial Park Campground to Lac La Hache Provincial Park Campground
We took our time getting going this morning, it was shortly after 11am before we even hit the road. We continued north on Hwy 1 to Cache Creek where we left Hwy 1, which at that point starts heading east, and continued north on Hwy 97.
It was a very pleasant drive. We stopped at a fruit stand and purchased some fresh peaches and tomatoes.
To keep up with tradition I had to stop when I saw this church at Spences Bridge (south of Cache Creek on Hwy 1).
For today's camp photo I thought I would show the portable shower curtain stand that John built for us just before we left. The trailer has hot and cold running water with a shower wand on that side. I used it this evening and it all worked great. It is easy to setup and take down and the pieces fit nicely into the cargo box on top of the car.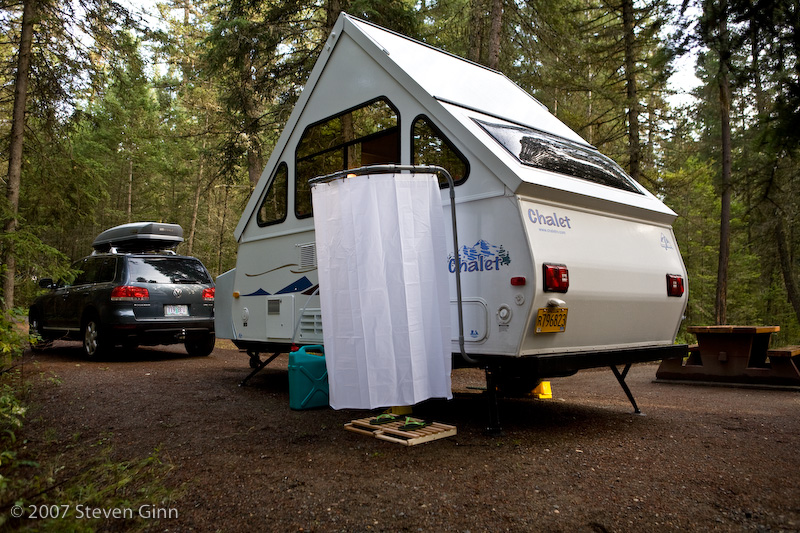 Again, tomorrow we continue heading north.
---
Day 6 (Tuesday, August 21, 2007)
Lac La Hache Provincial Park Campground to Whisker's Point Provincial Park Campground at McLeod Lake
So far we have been enjoying easy access to a series of Provincial Park campgrounds. They are very similar to State Parks except that do not have showers. The cost is averaging about $14 Canadian each night.
All of today was spent heading north on Hwy 97, tomorrow the Hwy bends east and heads to Dawson Creek which is the start of the Alaska Hwy.
A couple things of note happened today. First, I did something stupid this morning and I forgot to properly close and latch the cargo box on top of the car. After quit some distance, somebody finally flagged me down just as we were entering Williams Lake. When I got out the box was wide open. Fortunately the only thing that had fallen out was the shower curtain which we were able to easily replace with and even better shower curtain in Prince George.
The other item of interest that we did today was to stop at the VW dealer in Prince George to see if they would try to fix the faulty flat tire warning we keep getting. The tire pressure monitor in the Touareg started giving false flat tire warnings a week or two before we left on this trip. I tried to get a couple of different service centers in Portland to look at it but they kept telling me that I "must" have not balanced the pressure in the tires correctly and that if I really wanted an appointment it would be a couple weeks before they could fit me in. It's an intermittent problem but when it happens it can be very annoying because it tends to beep every 30 seconds or so for about 5 minutes upto 30 minutes. Fortunately we usually can go most of the day without this happening. But sometimes it seems to happen multiple times during the day. I thought that maybe the VW dealer in Prince George would be less busy and would take the time to look at it. I was able to talk them into connecting to the computer but they found no faults and they told me that it would take a long time to actually trace down the problem and it would be a week before they could even start. At this point we'll just live with it and get it fixed back in Portland. One interesting event was that when I pulled up to the dealer lot, the salesman came running out and wanted to look at the car, apparently he had never seen a V10 touareg before. We where even delayed by a few minutes because he just had to call his friend to come over and take a look and to hear how little noise it makes when it runs. It's possible that his friend is now going to buy a V10 from him. Apparently you can only get a V10 in Canada if they are pre-sold. The dealers don't get any stock.
Here is a photo of our camp this evening with McLeod Lake in the background.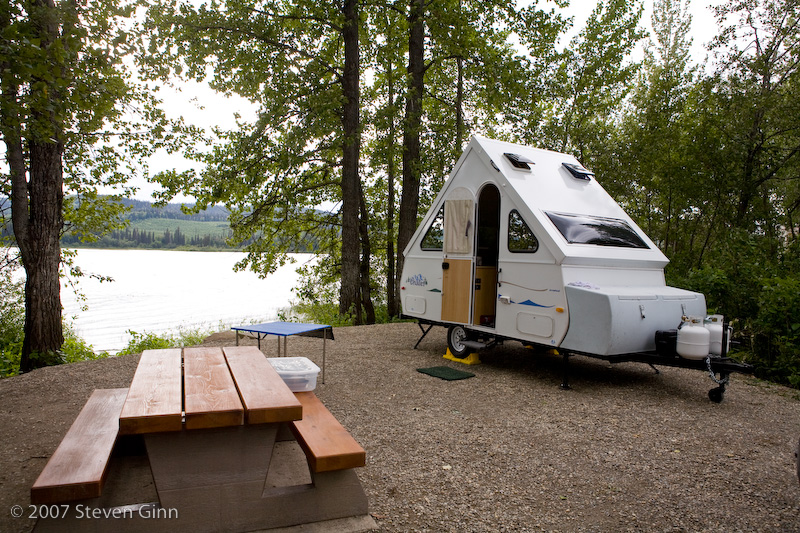 Here is a photo of McLeod Lake from the bank just behind our campsite, showing the day use beach off to the right.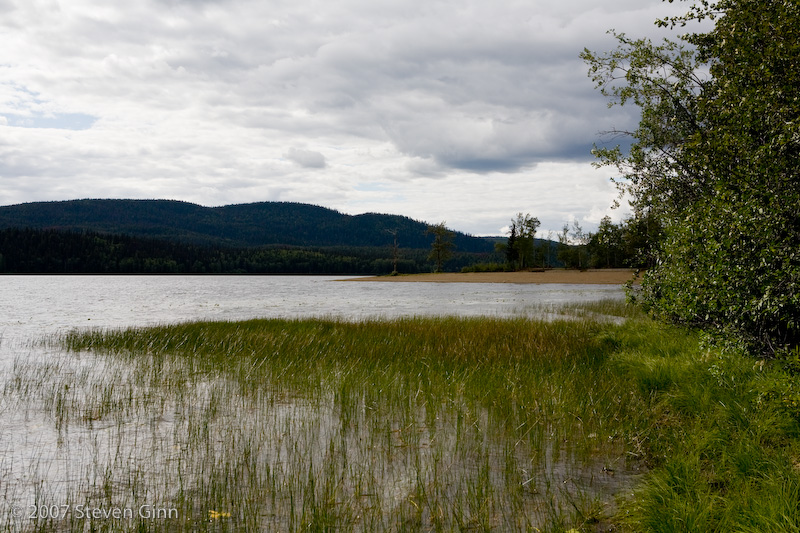 Here is a shot from the day use beach looking back towards our campsite with Tony, drinking a beer, in the foreground.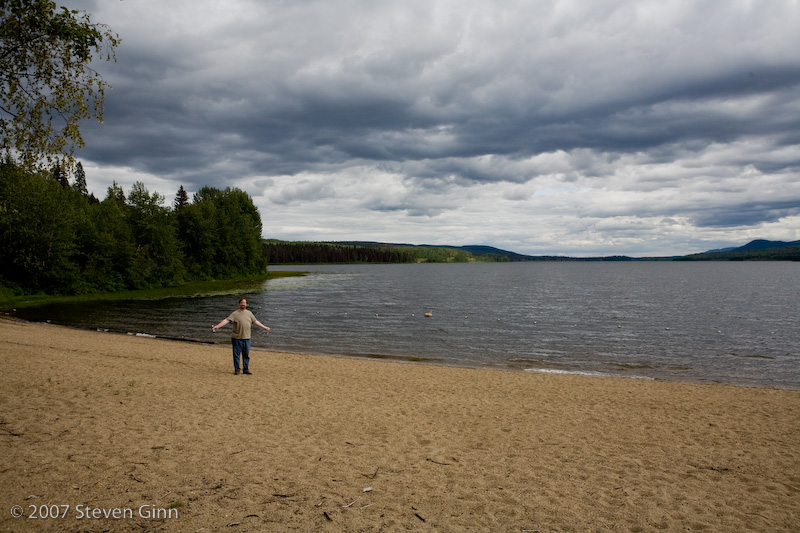 Another shot of McLeod Lake but this time notice the brown trees in the background. Canada appears to be having a real problem with the pine beatle and we have seen vast stretches with dead and dying trees.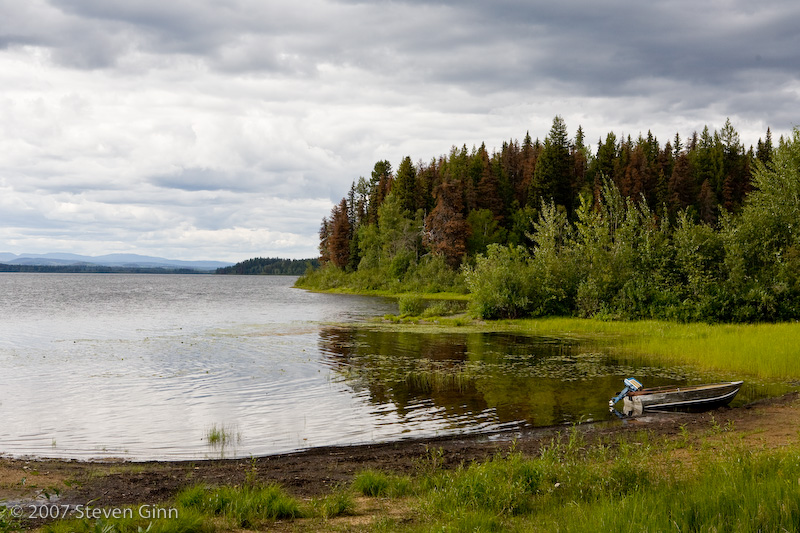 Notice the squirrel that was keeping an eye on us as we took a short hike.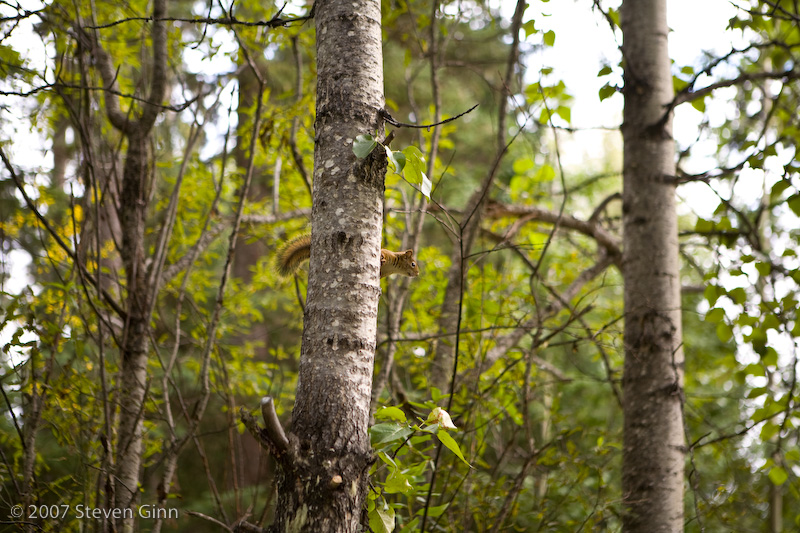 Some of the trees have impressive looking bark.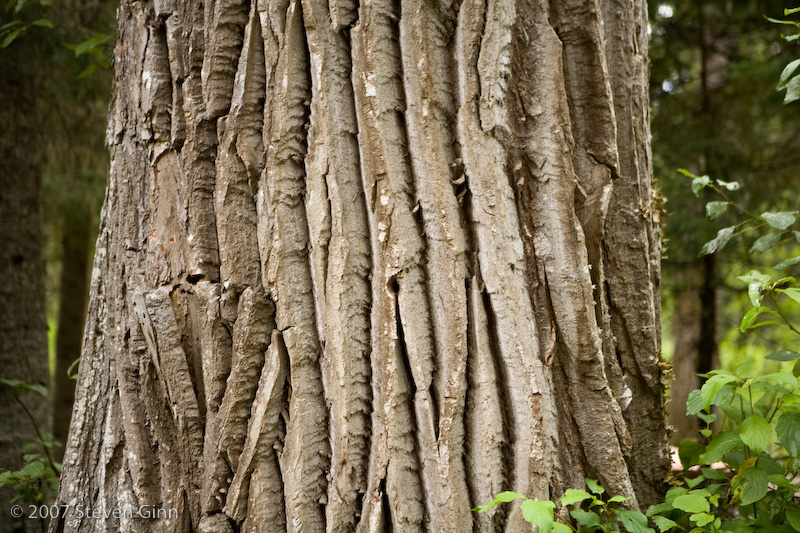 Tomorrow the plan is to end up in Dawson Creek and play tourist.
---
Day 7 (Wednesday, August 22, 2007)
Whisker's Point Provincial Park Campground at McLeod Lake to Dawson Creek (Mile 0 RV Park)
Today we continued north on Hwy 97 to Dawson Creek, the official start of the Alaska Highway. Along the way we crossed the Rocky Mountains at the lowest pass in Canada.
We had a few fun moments on the drive. At one point I rounded a corner and found a black bear a third of the way across the road. We came within a few feet of it, the bear did not seem to care that we had just drove by. I think the car behind me had to come to a complete stop but I could see that the bear had made it across safely. A few miles later with a semi both in front and behind me, a moose and her calf tried to cross in front of the semi ahead of me. She thought better of it but then tried again to cross in front of me but stopped short again, I was slowing down fast but I was worried if the semi behind me would slow down fast enough, fortunately it did. Tony did get a few photos of the moose but we have not been able to download his photos yet. Just a few miles after the moose I saw what I believe to have been a wolf walking along the edge of the forest with some sort of chicken sized animal in it's jaws. I think it was a wolf because it looked too large for a coyote.
In Dawson Creek there are two Alaska Highway "Mile 0" monuments. The first one below, in the middle of an intersection, is apparently the traditional one that Dawson Creek is known for. However, according to the visitor's center it is not in the right location.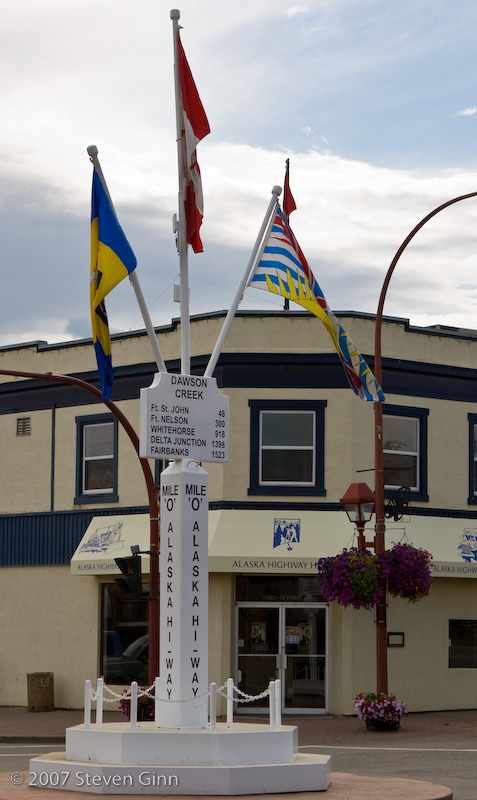 We were told that the one below is located correctly where the road was first surveyed to start. It seems like a bit of a minor point to me, considering they are only about two blocks apart.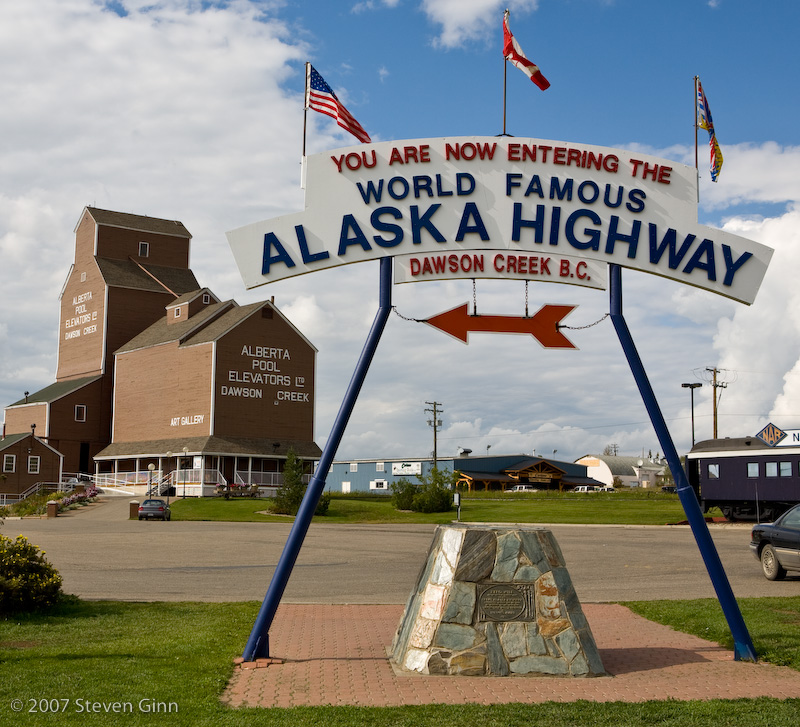 The photo below is a close up of the plaque that you see in the photo above.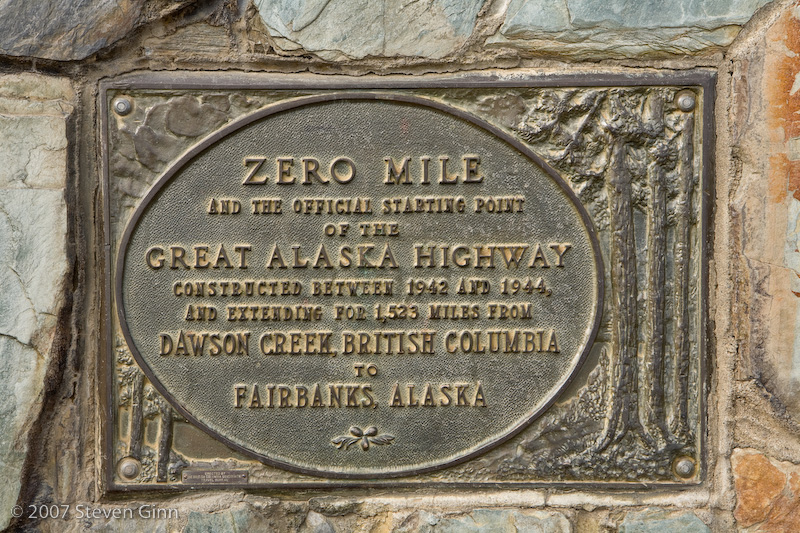 Down an alley about a block from the first monument is what we assume is a mock up of what Dawson Creek looked like when the Alaska Highway was being built.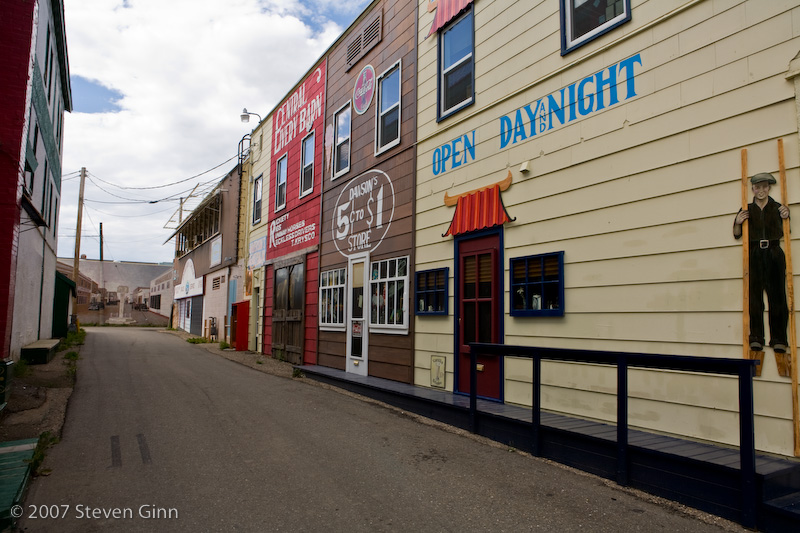 Today's campground was actually an RV park with free wireless internet, free showers and laundry machines. So we are all clean again!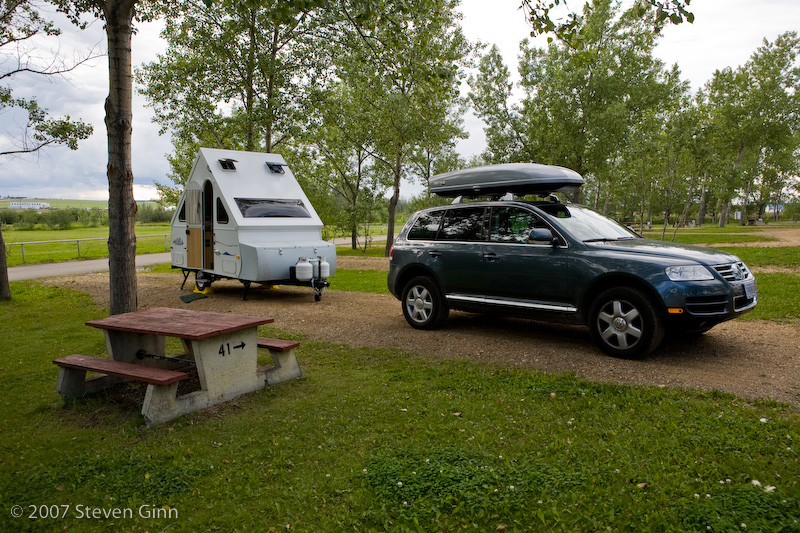 Tomorrow we will start counting down the miles on the Alaska Highway. I have no idea where our next internet connection will be.
Click here to return to the 2007 Alaska Road Trip index page.