| | |
| --- | --- |
| | 2007 Alaska Road Trip |
Click here to return to the 2007 Alaska Road Trip index page.
Day 18 (Sunday, September 2, 2007)
River's Edge RV Park (Fairbanks) to Byers Lake Campground (in Denali State Park along Park Highway)
Today we drove south from Fairbanks along the Parks Highway past Denali National Park. We tried to get a view of Mount McKinley but there were too many clouds.
We are staying at Byers Lake Campground in Denali State Park. According to a sign here there is a view of Mount McKinley from the lake, however, despite it being clear here at the lake there are too many clouds to the west so we are unable to see the mountain.
Here is a photo of the lake, although not in the direction of the mountain.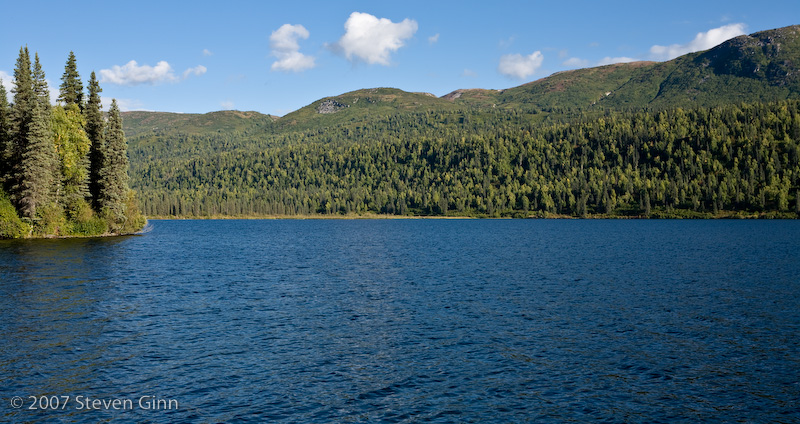 We took a short walk around part of the lake and saw this old cabin. According to the sign, it was built in 1959 when Red Beeline and his wife flew into the lake to hunt for fur animals.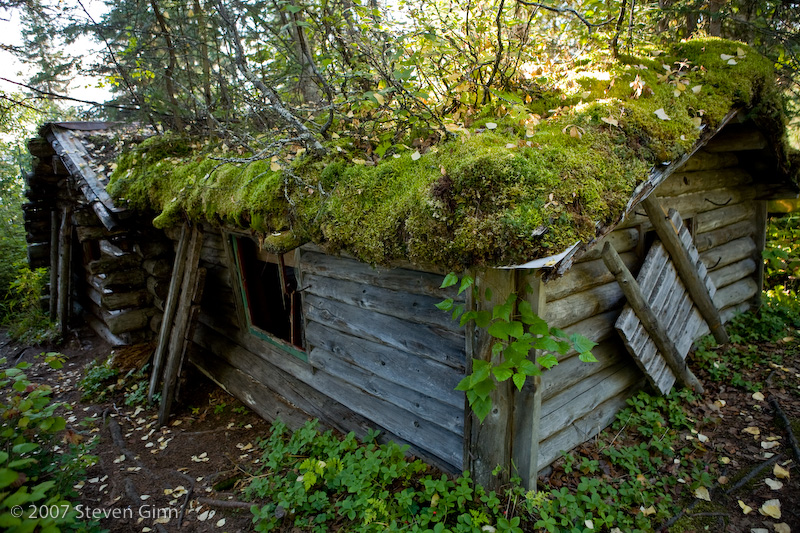 Here is a view of the inside, taken through an open window.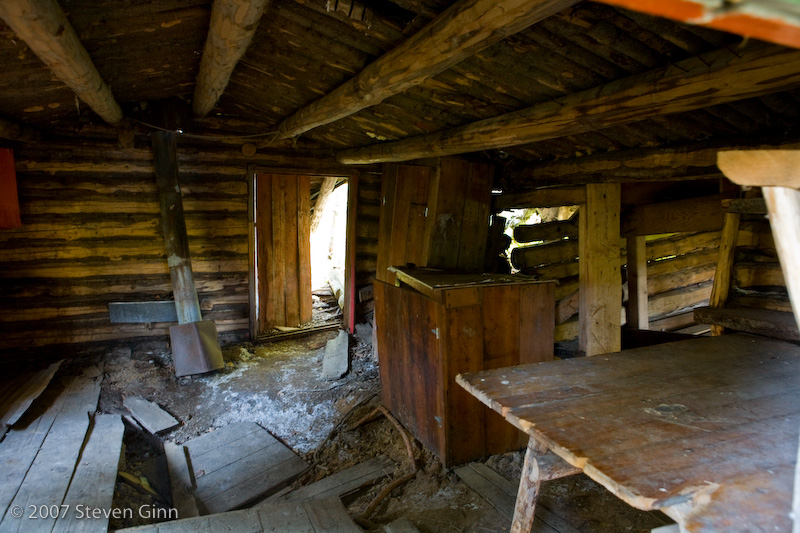 The Parks Highway which now accesses the region was built in 1971.
Here is a photo of our campsite this evening.
Tomorrow we are likely to stay another day to see if we can get a view of Denali.
---
Day 19 (Monday, September 3, 2007)
Byers Lake Campground (Second night)
Today we continued to wait to see if the clouds would lift to allow us to see Mount McKinley. It never did seem to clear up that much so I spent most of the day reading a book and Tony took a short hike around part of the lake.
Tony took some interesting photos on his hike. Here is a nice forest scene.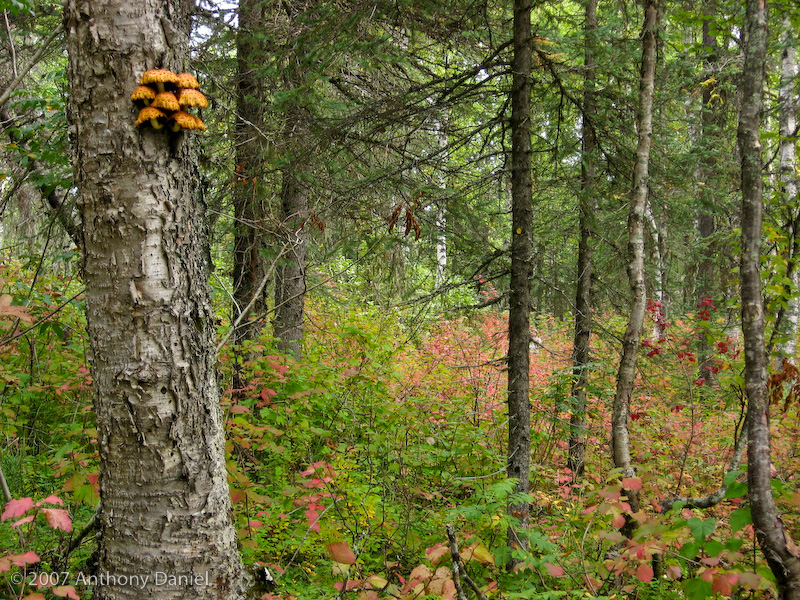 We saw a lot of these berries below, you can see lots of them in the photo above, they are called High Brush Cranberries and are somewhat tart. We were told by someone out picking them for jam that the bears like them. They were ripe and plentiful but we didn't see any bears.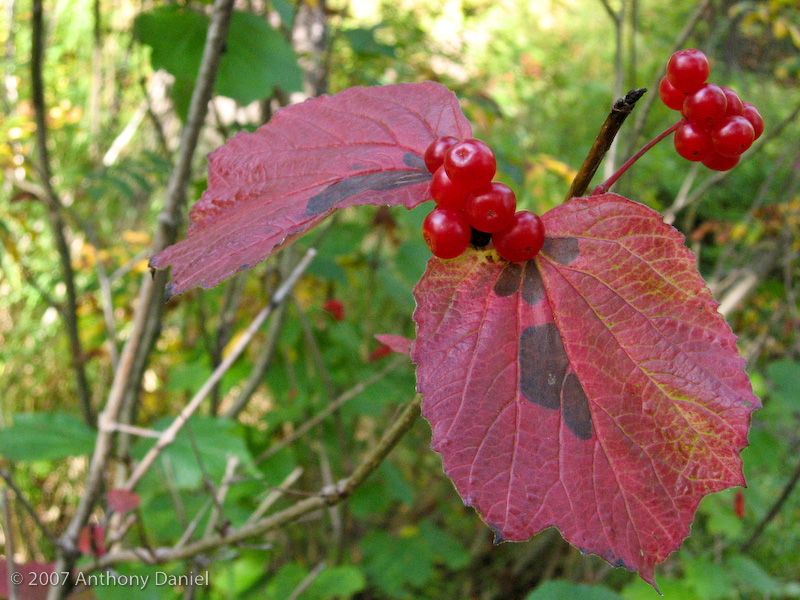 Tony's hike took him across a narrow suspension bridge.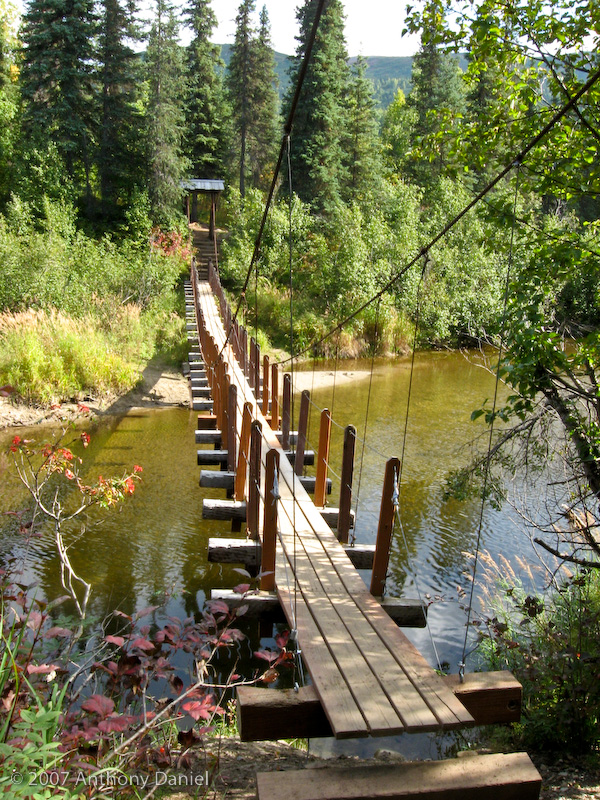 Under the bridge he found a lot of spawning Sockeye salmon.
On a walk I took down to the lake to look to see if it was clear enough to see the mountain I took this photo of light patterns on the surface of the lake.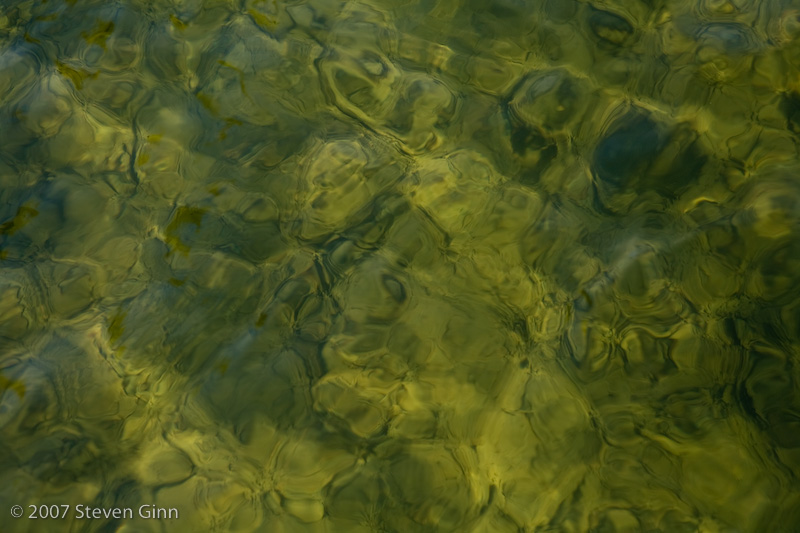 Tomorrow the plan is to start heading south again towards Anchorage.
---
Day 20 (Tuesday, September 4, 2007)
Byers Lake Campground to South Viewpoint Denali State Park (along Parks Highway)
We woke this morning to a much clearer sky. So even before eating breakfast we jumped into the car to drive back north to a viewpoint we had seen on our way down named North Viewpoint Denali State Park.
While the mountain is visible today we were a little disappointed in the placement of the viewpoint with the big hill in front of the mountain.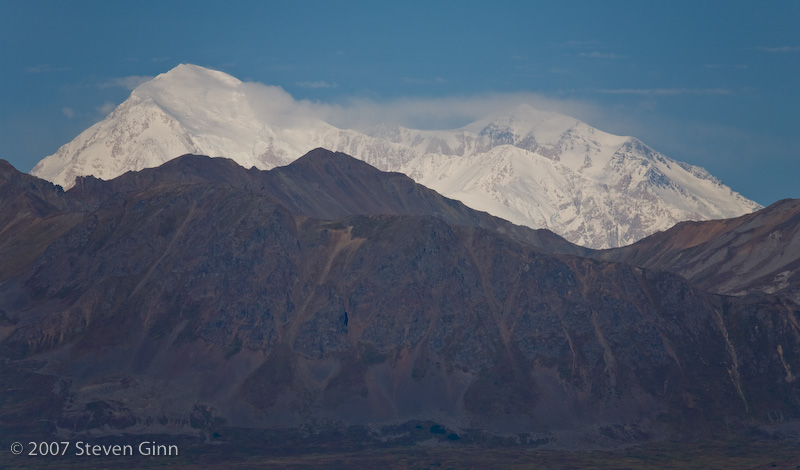 Here is a wide angle shot from the same spot.

In order to get over the trees in the foreground there was a convenient pile of dirt.
On our drive back to the campground to pack up to leave we discovered that by turning off at the Alaska Veteran's Memorial, which was right next to our campground, there was an excellent view of Denali.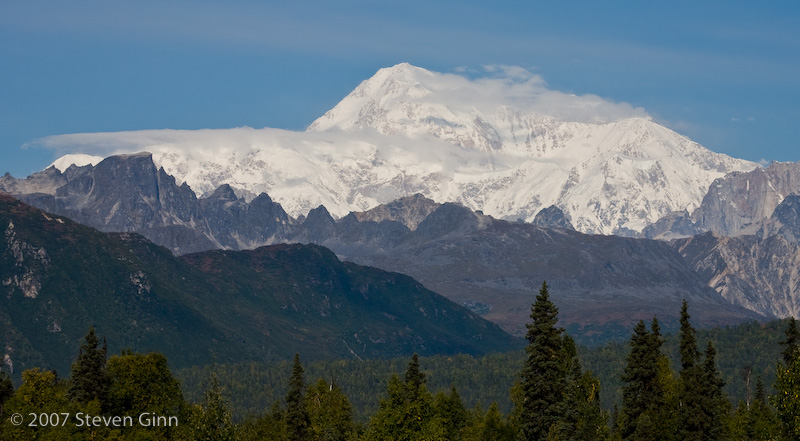 Here is a shot of the memorial, which appears to have been strategically placed to have one of the best views of the mountain.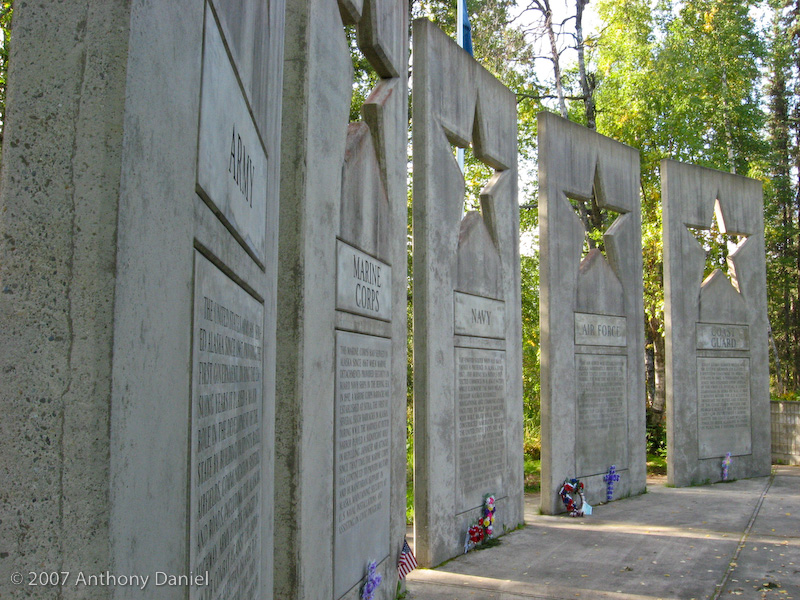 We got back to the campground and packed up and started heading south again. After only about a half hour or so drive we found a viewpoint with an outstanding view! Here is an image from this viewpoint, known as South Viewpoint Denali State Park.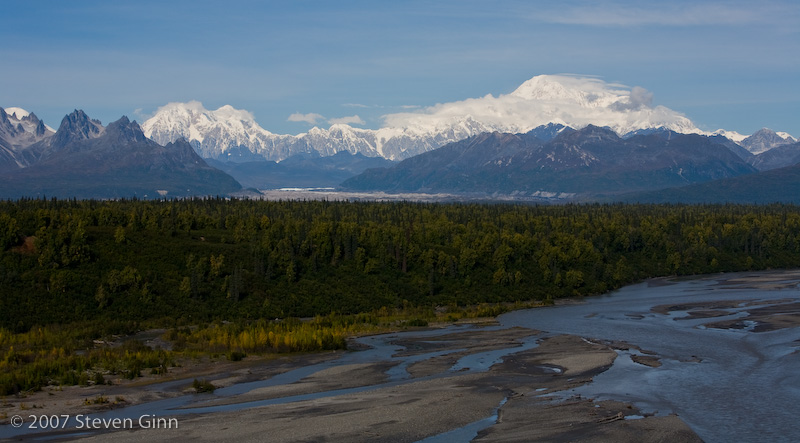 This viewpoint allowed overnight camping in the parking lot and given the grand view we decided we would spend another night and try for an evening shot and a morning shot of the mountain. Here is our campsite for tonight.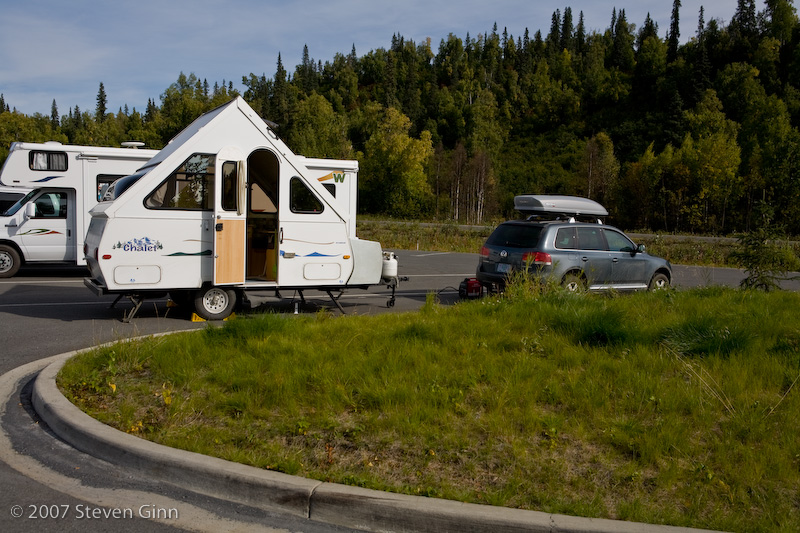 Unfortunately by time evening came around it had clouded up around the mountain.
Here is a shot that Tony took this evening of the sunset that shows the clouds obscuring the mountain itself.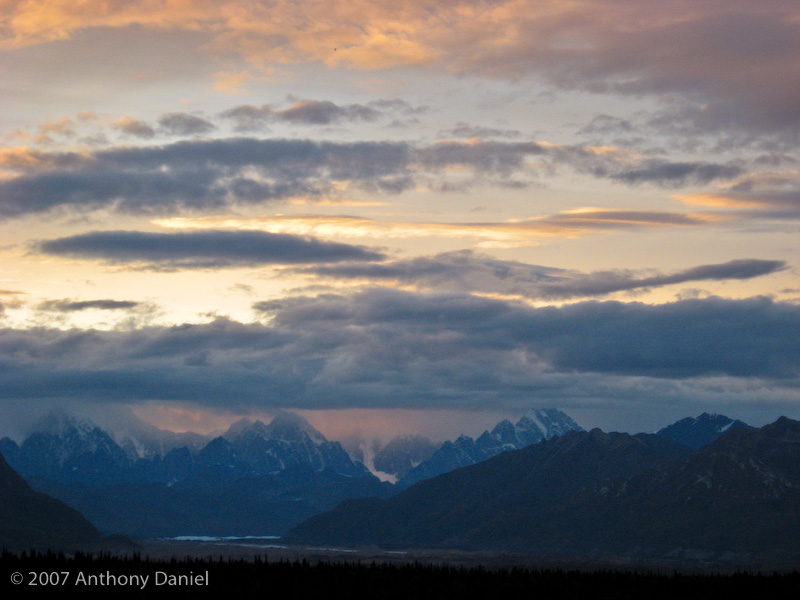 The plan is to get up early and see if we can get a sunrise shot.
---
Day 21 (Wednesday, September 5, 2007)
South Viewpoint Denali State Park (along Parks highway) to Stoney Creek RV Park (Seward)
Tony set an alarm for 6am this morning and he was nice enough to go out this morning in the cold to check on the mountain. Unfortunately the clouds had not lifted much, but he did get this nice sunrise shot off to the side of the mountain.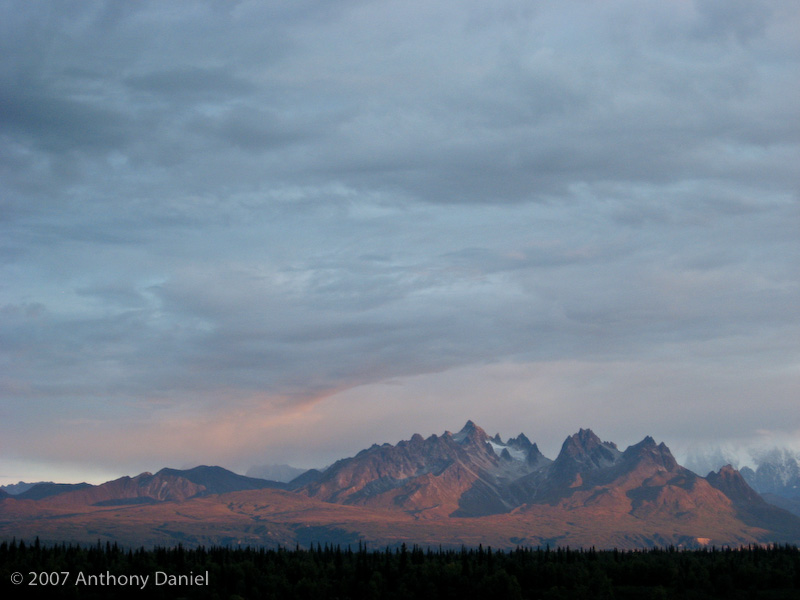 It improved later in the morning but we did not get either the sunset nor sunrise photos I was hoping for so we moved on.
We decided that since we had spent so much time near Denali that we would not stop in Anchorage right now but head directly to Seward.
The road from Anchorage to Seward is designated an All American Road for it's scenic value. We drove a significant distance along the shore of the Turnagain Arm of Cook Inlet, which I though was one of the more scenic parts of the drive.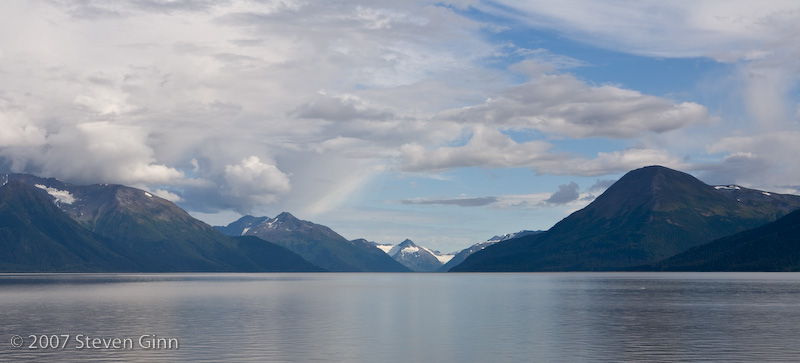 We also saw a lot of Beluga whales along this route but all the photos pretty much just have them as ripples in the water or small specs, there is one in the photo above.
The road was narrow but had some turnouts.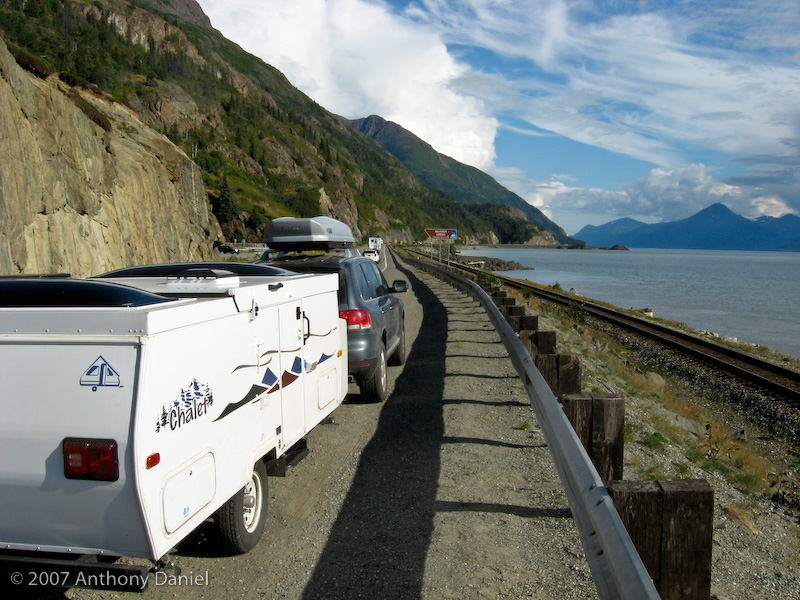 It was late when we arrived in Seward but we just checked into an RV park so we could do laundry and take a shower. This particular RV park was simply a gravel field but it was off the road and quiet.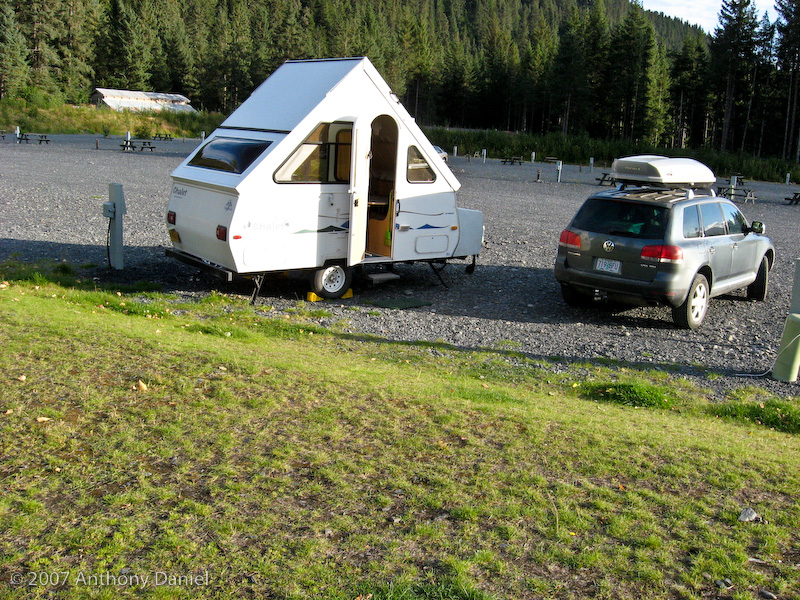 After cleaning up we decided to go out to dinner in Seward. Here is a shot of downtown Seward; we ate at the first restaurant on the left, although it was not that great.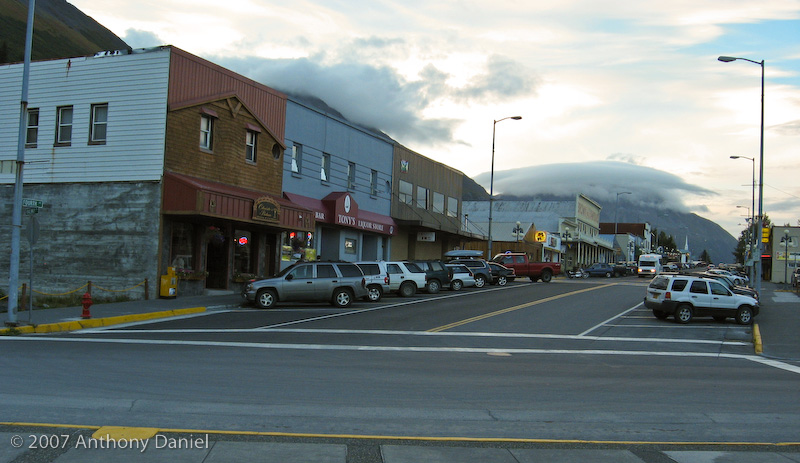 Tomorrow, Tony and I are going to separate for a couple of days. Tony is very interested in taking a trip on the Alaska Marine Highway system and I am not as interested in that and I am also not comfortable leaving the car and trailer. The plan is to drive to Whittier and Tony will catch a ferry to Cordova and I will take off on my own to drive down to Homer. In a couple days time I'll return to Whittier to pick Tony up again.
Click here to return to the 2007 Alaska Road Trip index page.