| | |
| --- | --- |
| | 2007 Alaska Road Trip |
Click here to return to the 2007 Alaska Road Trip index page.
Day 14 (Wednesday, August 29, 2007)
River View RV Park (Fairbanks) to Marion Creek Campground (5 miles north of Coldfoot)
Today was a very successful day. We hauled the trailer from Fairbanks all the way past the Arctic Circle to just north of Coldfoot. We had paved road from Fairbanks to Livengood for 84 miles on the Elliott Highway. From there another 180 miles on the Dalton Highway before we reached Marion Creek Campground. About two thirds of our 180 miles on the Dalton Highway was gravel and dirt. The paved sections were very good, with one section of 10 miles or so brand new just finished a few days ago. The rest was dusty, dirty and the major activity was dealing with large trucks hauling things to Prudhoe Bay. Since we stopped a few times we kept having to pass the same guys over again. Before leaving Fairbanks we purchased a handheld CB radio so we were able to listen on channel 19 to the truckers talk about the little camper on their tail.
I did hear one compliment when an old pickup in front of us lost it's spare tire out of the back and I stopped to move it off the road because it was a significant road hazard and I overheard one extra-wide load tell his pilot car "that was nice of him". Later I caught up with the pickup and told them they had lost the tire and where to find it. Although just stopping to do this on the road was very dangerous so when I saw another large truck speed around the corner behind us I had to speed away without being able to ensure the pickup understood the location of their missing spare.
The real point I am trying to make about the Dalton Highway is that it is known as the Haul Road. It is designed as and intended for truckers hauling loads to Prudhoe Bay. It was not until 1981 that the road was opened to the public up to to Disaster Creek (milepost 211) and it was not until 1994 that it was opened to the public all the way to Deadhorse (milepost 414). However, even though Deadhorse is only 8 miles from the Arctic ocean the road is not open to the public for that last 8 miles past Deadhorse, although you can get a tour if you call ahead 24 hours. Our current plan is to not make it that far north.
Here is a photo of Elliott Highway on our way to Livengood.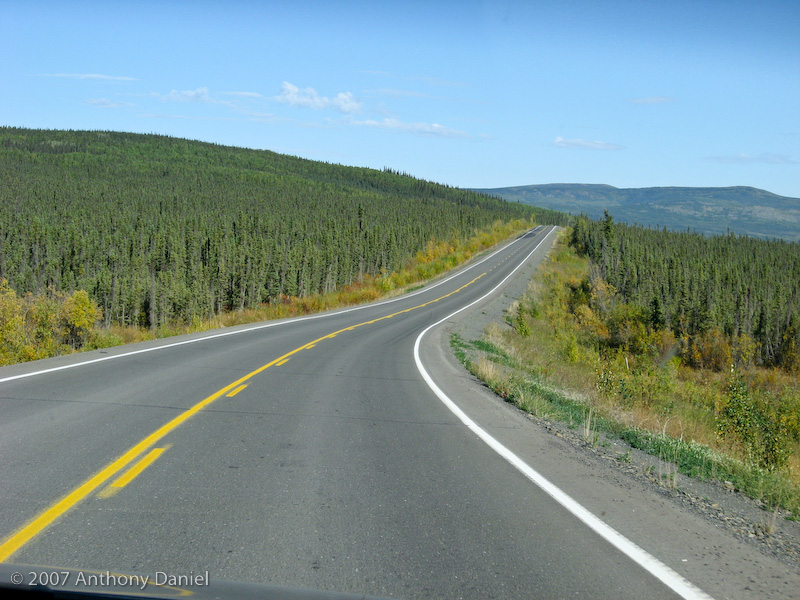 Here is a photo of what the Dalton Highway looked like shortly after we started on it.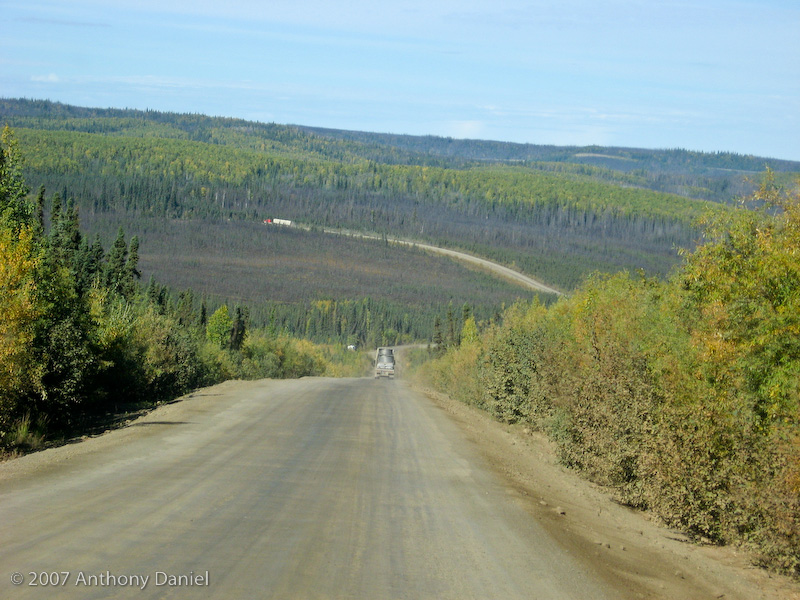 As mentioned above, the challenge with driving the Dalton Highway is dealing with large trucks. The fully loaded tankers were the slowest. The other trucks were usually faster than me.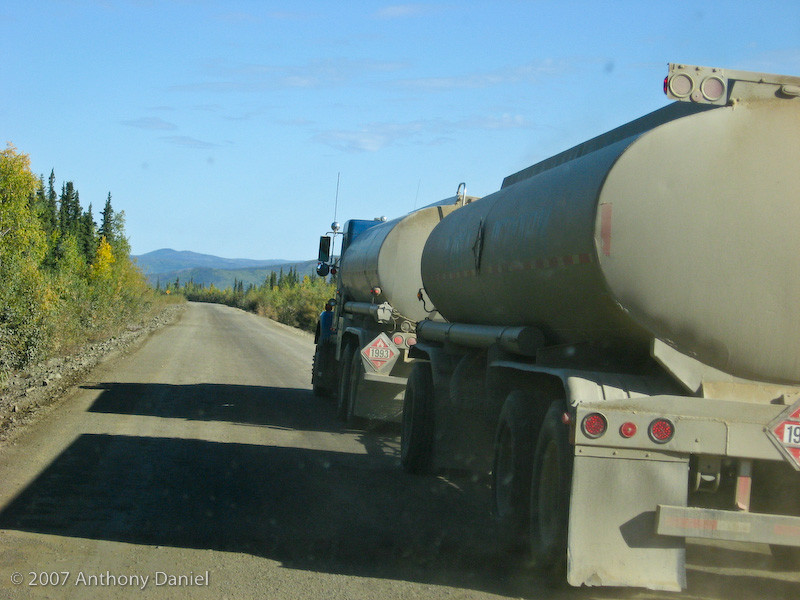 Surprisingly enough after twenty or thirty miles the road was paved for a few miles. The pavement made for much easier driving, however, we discovered that the road sign "Road Narrows" really means "Pavement Ends".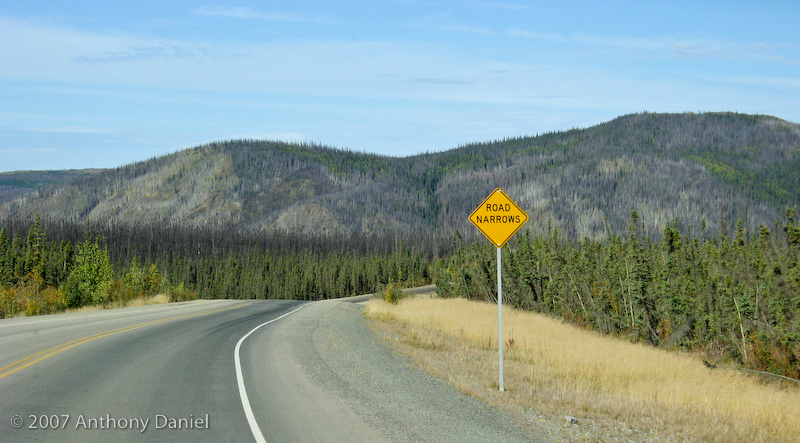 As you may know the Alaska Pipeline and the Dalton Highway follow each other.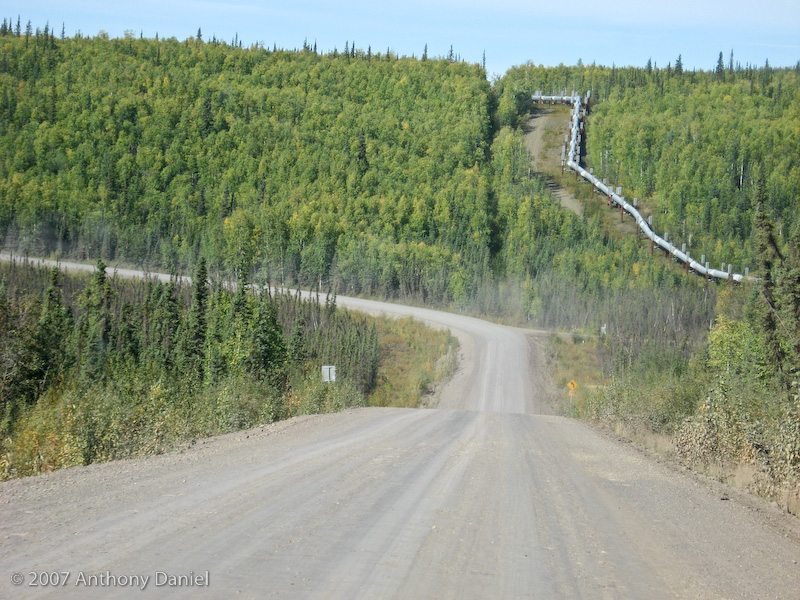 They seem to be paving large sections each year. This 10 mile or so section was very nice since they had just finished it a day or two ago.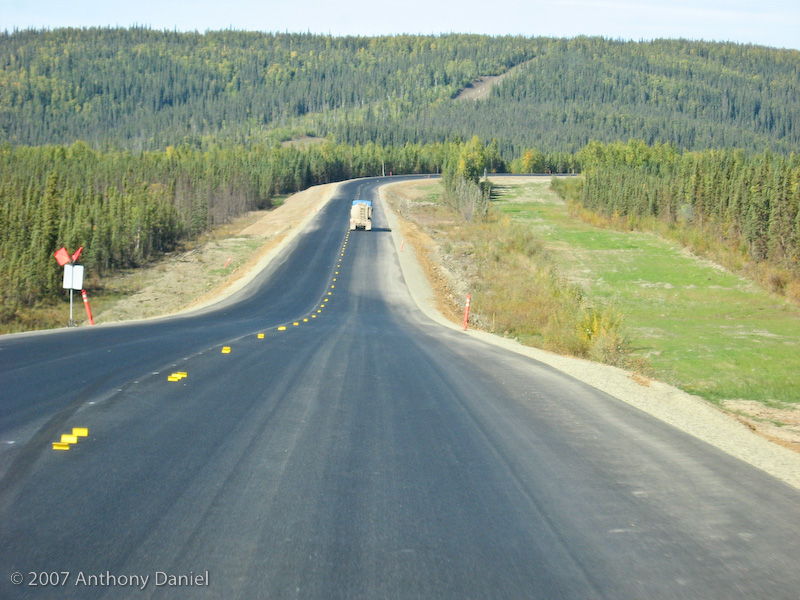 Here we are crossing the Yukon River.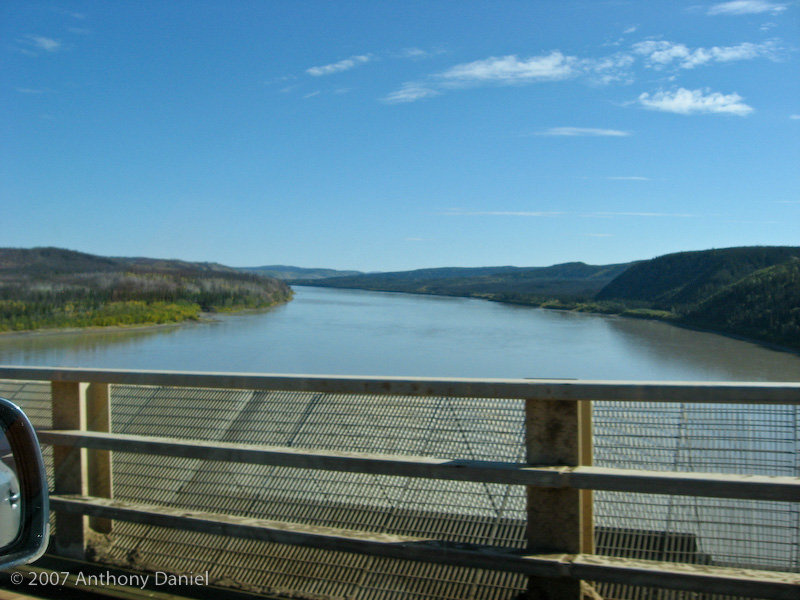 Here is a picture of the actual Yukon River bridge, notice it's all wood planks. There was a section at the beginning in our lane that I drove around because it looked like it was about half rotten. It might be hard to notice but the bridge slops pretty steeply down to the other bank. We are curious what the speakers on the bridge are for.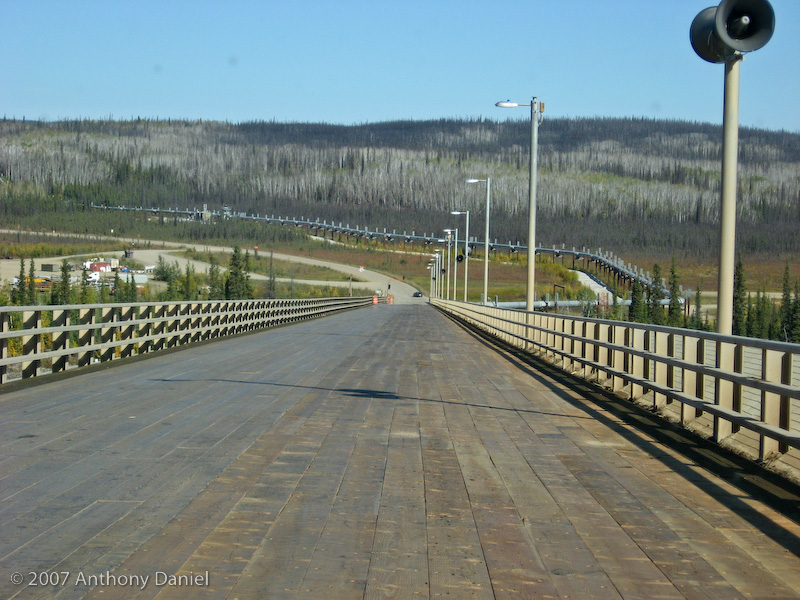 Notice all the dust behind us! Sometimes it was worse than that from the trucks in front of us. I have to admit that it was a bit of a hairy drive when sometimes the trucks put so much dust up that I could not see 20 feet in front of me. I was very happy to have the CB radio that gave me some clue of what other trucks were on the road.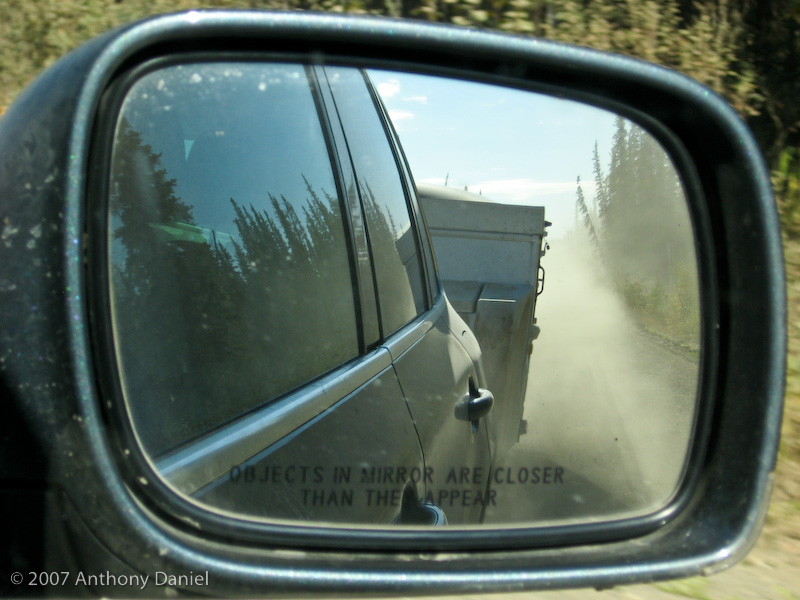 Then it was back to pavement again.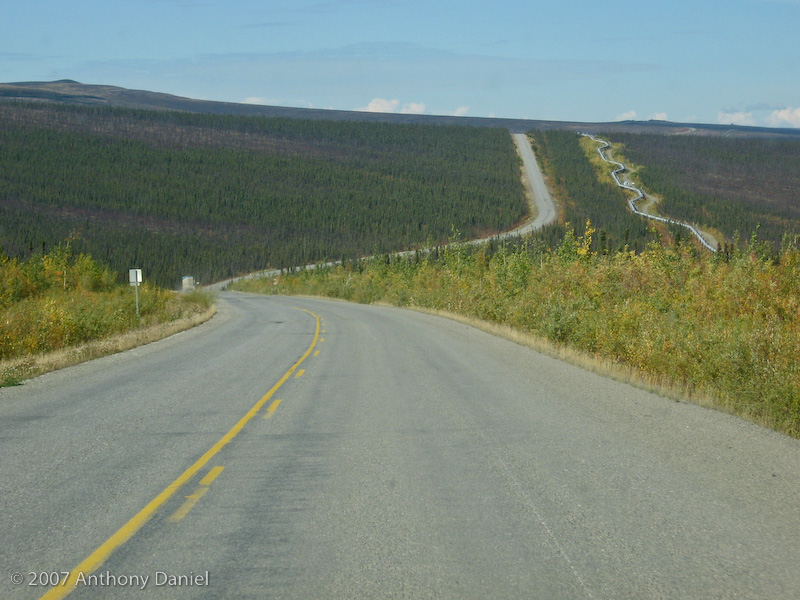 It turns out that there were very few safe spots to stop and take photos. There were lots of blind corners and hills and the truckers don't slow down. So Tony took this landscape shot as we drove by. I thought it looked a little like a landscape painting.
The major stop on the drive north today was at a little wayside at the Arctic Circle (66° 33' north latitude). Not much there except a lot of bugs. Of course this stop meant that we got behind the same trucks we had already passed twice before.
It turned out that according to our GPS the Arctic Circle sign was slightly north the actual Arctic Circle, the actual spot was of course too dangerous a place to stop.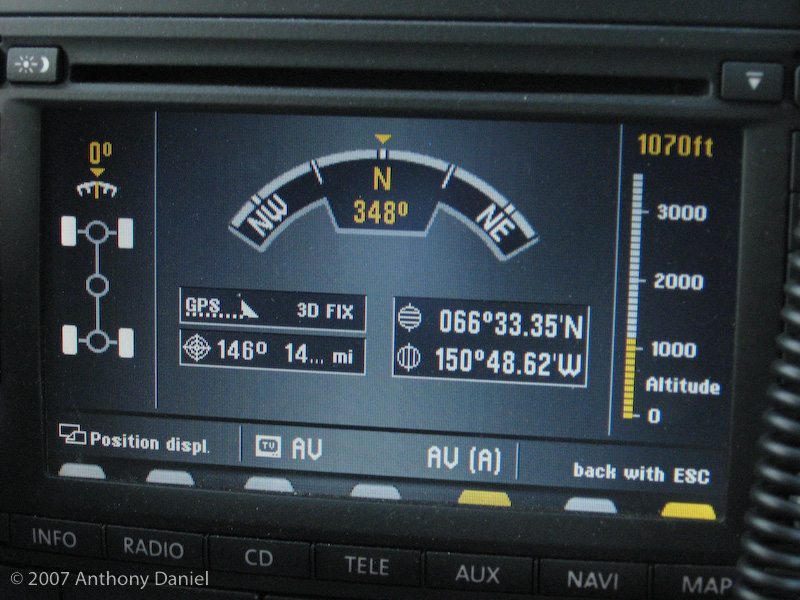 Here we are getting fuel in downtown Coldfoot.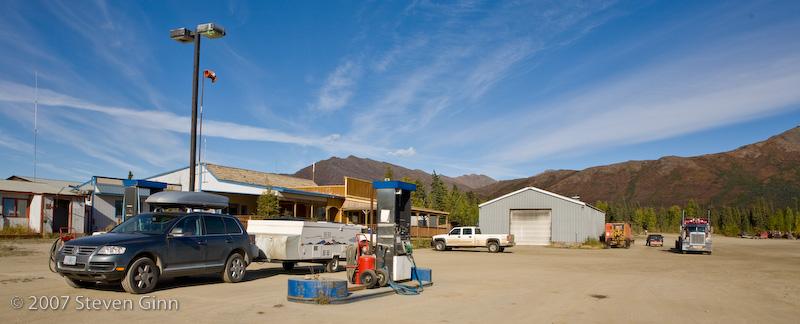 However, there was an Arctic Interagency Visitor's Center on the other side of the road in Coldfoot. The contrast of old Coldfoot and new Visitor's Center was dramatic.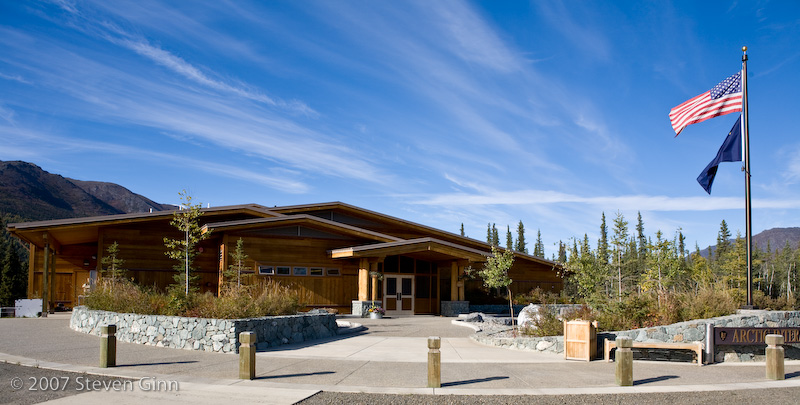 Here is a photo of a large globe they had in the visitor's center. The dashed black line is the Arctic Circle and we are currently just north of it at Coldfoot.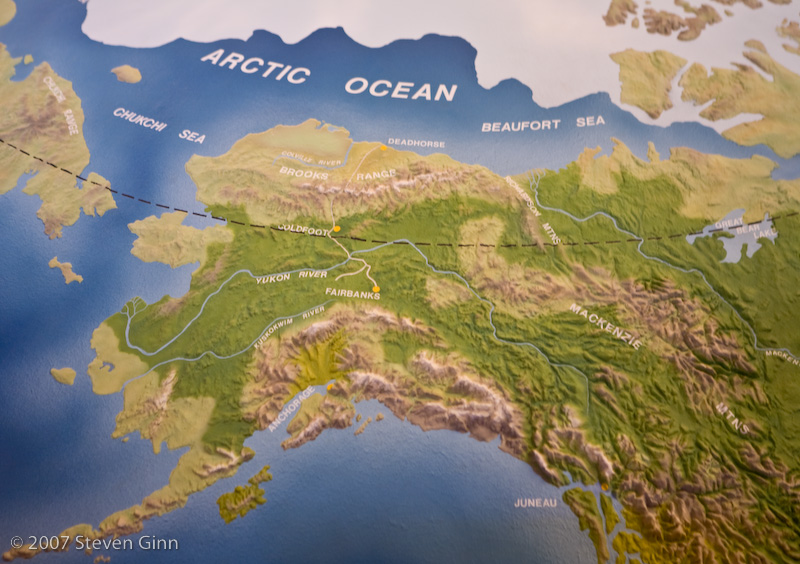 We are spending the night at Marion Creek Campground which is the only developed (meaning it has picnic tables and pit toilets) on Dalton Highway, it is five miles north of Coldfoot. Notice all the gear outside. It turns out that the trailer has some seal that is not properly keeping the dust out while we travel and we did about 100 miles of gravel road today. So we had to pull everything out and clean, it was not too big of a problem, but it was annoying. Surprisingly enough we did all this cleaning in 70 degree weather even though we're north of the Arctic Circle.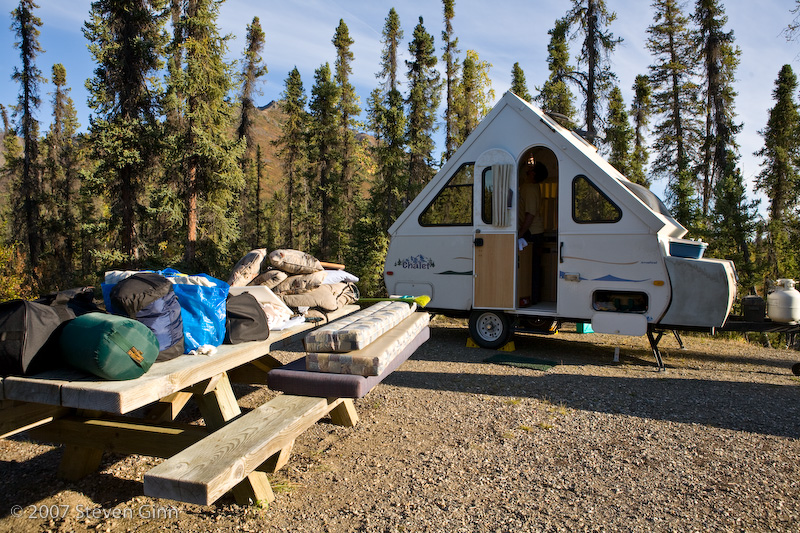 Here is a nice sunset shot Tony took from our campsite.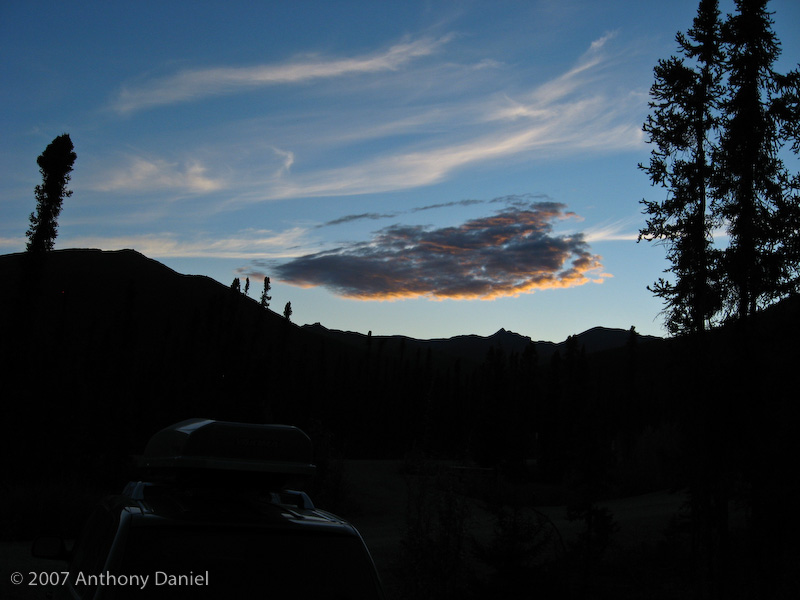 Tomorrow the plan is to leave the trailer at what turns out to be a very nice campground and head north past the Brooks range and into the North Slope area. Coldfoot has fuel and we fueled up when we got here so I'm good for about a 400 mile round trip.
Click here to return to the 2007 Alaska Road Trip index page.