| | |
| --- | --- |
| | 2007 Iceland Photography Trip |
Click here to return to the 2007 Iceland Trip index page.
Day 4 (Sunday, June 24, 2007)
Ensku húsin við Langá to Gistihúsið Langaholt (Snæfellsnes peninsula, 252 km)
We spent all day exploring the Snæfellsnes peninsula. The weather progressed from partly cloudy to completely overcast all the way to pouring down rain at one point. One of the things we really noticed today was that Iceland has a lot of waterfalls.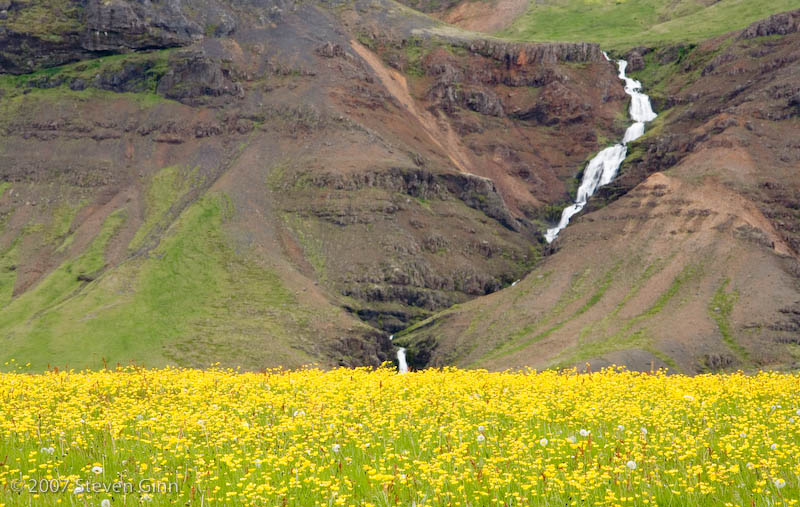 Iceland also has a tremendous number of small churches in some of the most remote places. It's hard to imagine that there is more than ten people in the area for some of them.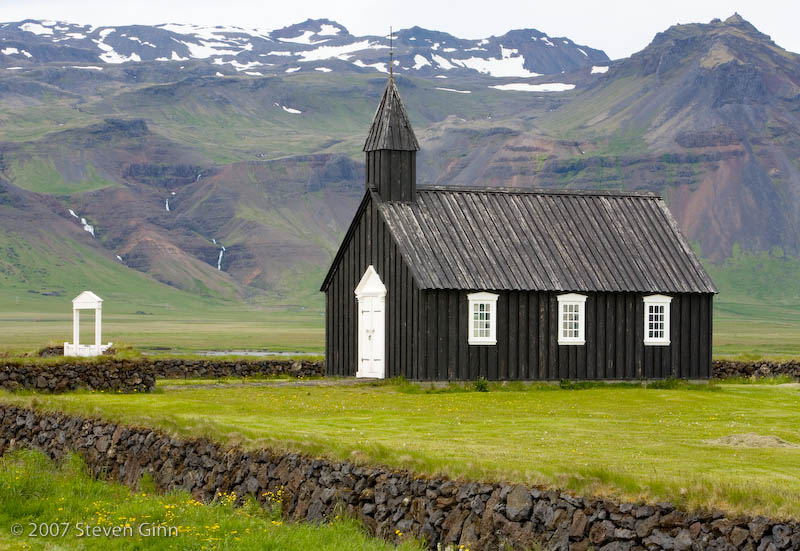 We are running into a lot of other travelers who are on vacation. It seems like a high proportion of German, French and English folks. Below is a shot of a grandfather and granddaughter having a great time marching down an old harbor wall in Hellnar.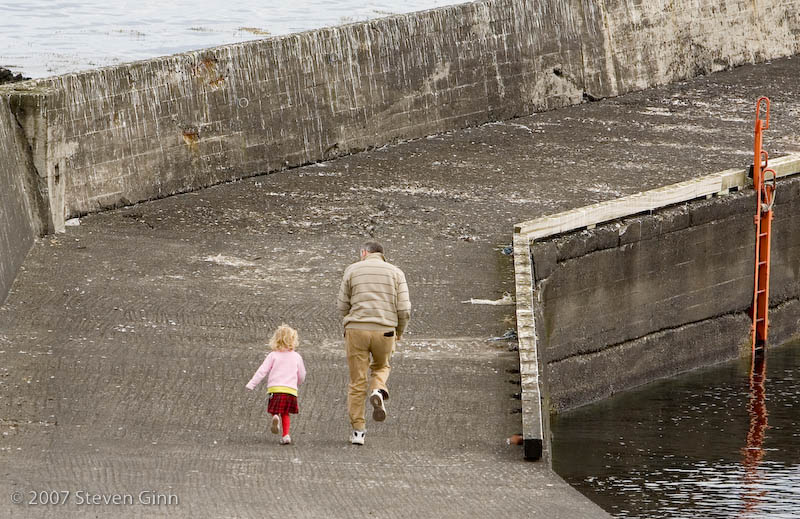 I took the above photo from the deck of a little cafe in Hellnar where we ate lunch. The cafe is shown in the photo below. Not far from this cafe we were sitting out front at another small cafe having an ice cream bar when an American/French couple came by and asked us if we could help rescue their rental car which had a blown radiator. It was only a mile or so away so I drove one of them back to the car with some water and followed them back to the cafe were they were going to wait for the rental car company to bring them a new car. It was a pretty bad leak, as we poured water into it started dripping out right away.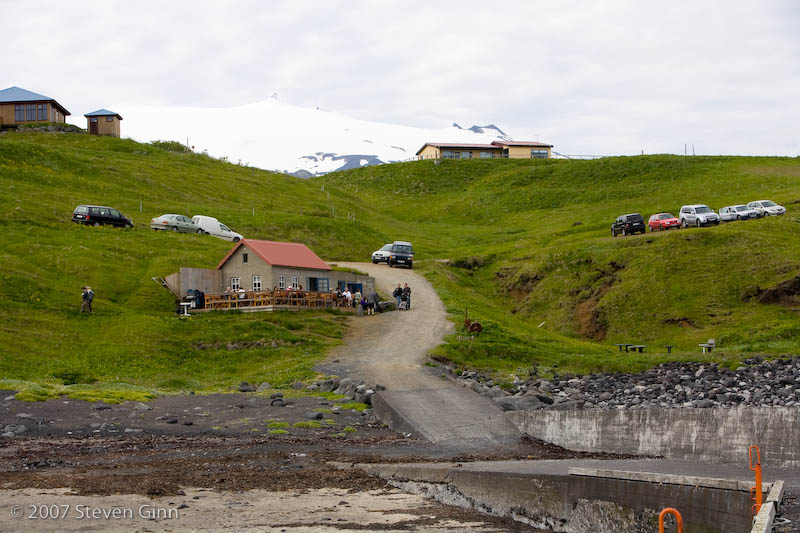 Below is an example of some traditional sod roofing that we have seen a few instances of and I expect we'll see more. It looks right at home in the rain we were getting at the time.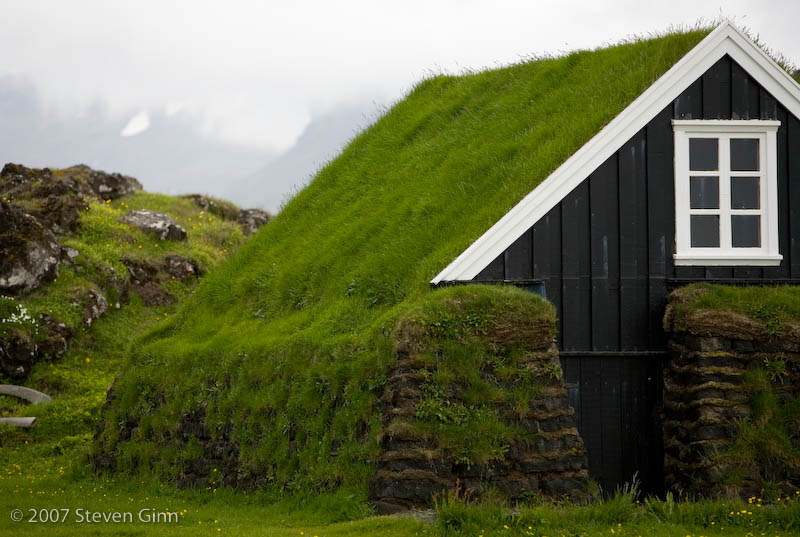 Speaking of rain and remote churches, it was pouring on me while I took the photo below.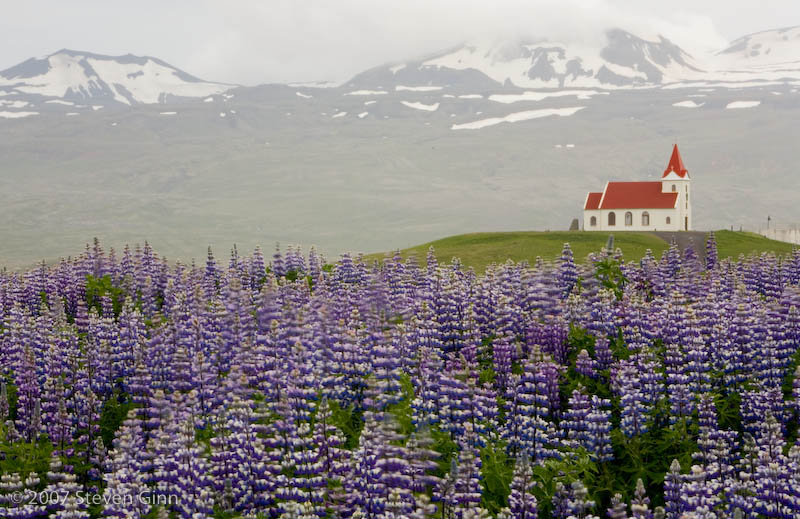 One of the things that I have noticed while driving in Iceland is an excessive amount of yellow roadside reflectors on almost all the roads we have been on. Considering that most of the roads have also been very narrow maybe it's not such a bad idea.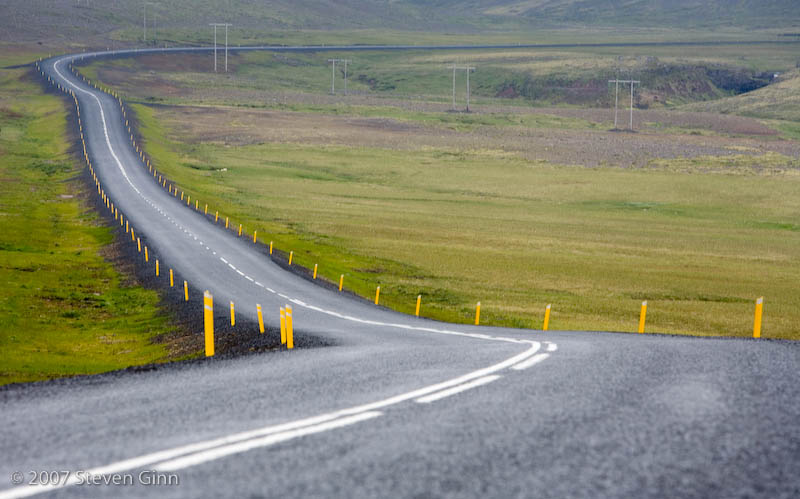 We are staying at Gistihúsið Langaholt on the Snæfellsnes peninsula tonight. Currently it's almost 1am at night and it still looks almost as bright outside as in the photo of the country hotel we are staying in below.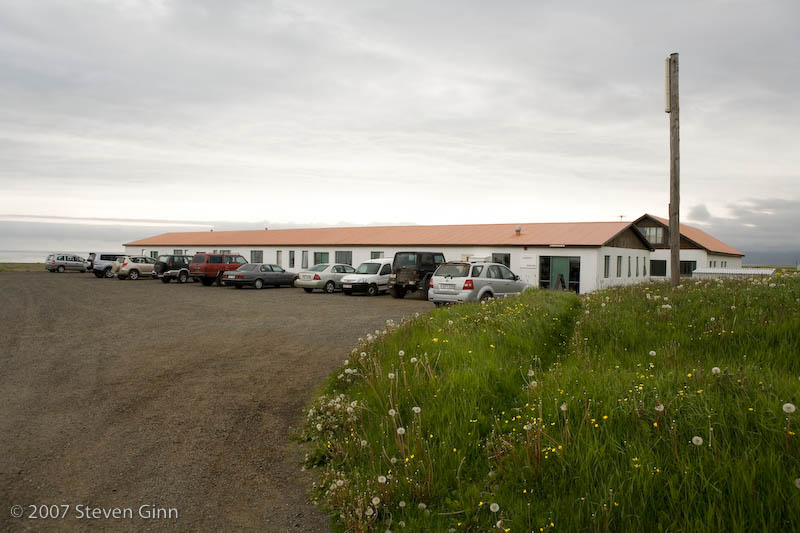 When we arrived at the hotel we learned that they had just yesterday got broadband internet along with a wireless router installed. It's a good thing we made those reservations early so they had time to get this installed for us! ☺
Click here to return to the 2007 Iceland Trip index page.