| | |
| --- | --- |
| | 2007 Iceland Photography Trip |
Click here to return to the 2007 Iceland Trip index page.
Day 3 (Saturday, June 23, 2007)
Reykjavik, Iceland to Ensku húsin við Langá (Very indirect route, 370 km)
We woke up to a beautiful sunny day. The only real down side was that the wind was blowing hard all day long. We left Reykjavik and started touring some country roads. Here is a picture of Rusty on one of our first stops once we were out of Reykjavik.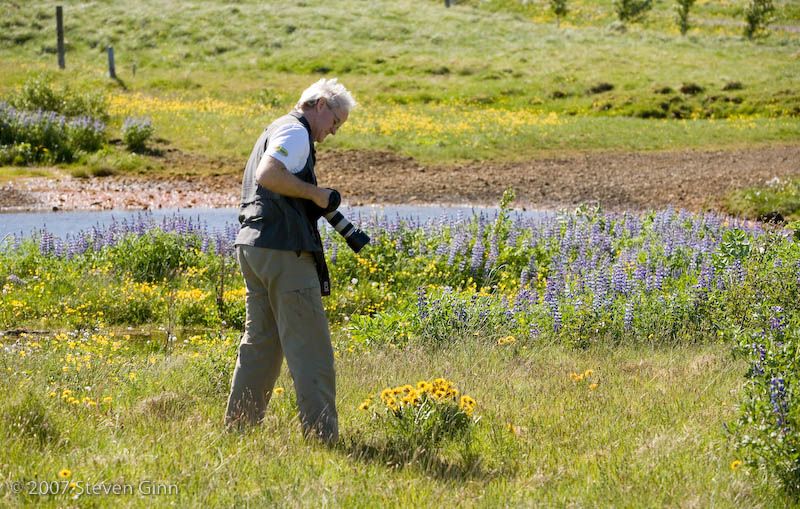 We toured the Thingvellir national park which is the historic and original seat of government. It's up in the highlands so that people from all over the island would have an overland route to get to it. It is also right next to some significant riffs in the crust of the earth that are part of the mid-atlantic ridge that runs right through the island.
This is a photo of the original parliament buildings and church.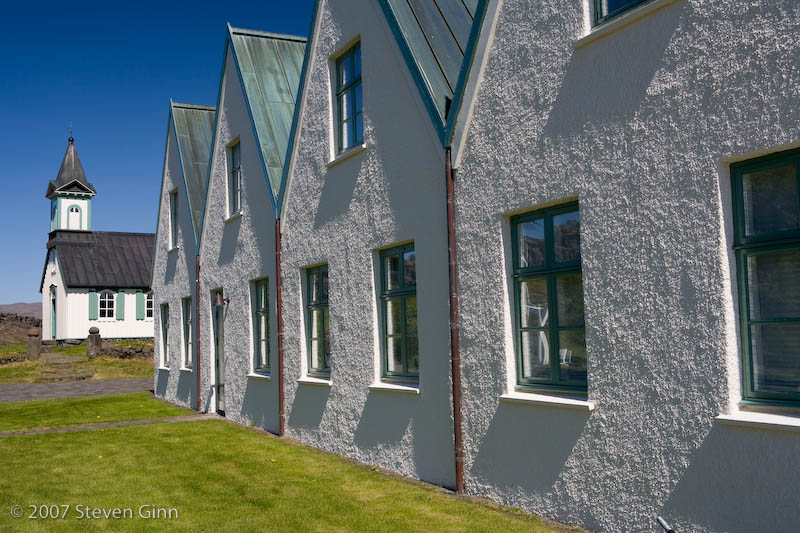 This is a photo of a small piece of one of the smaller riffs that is visible in the area.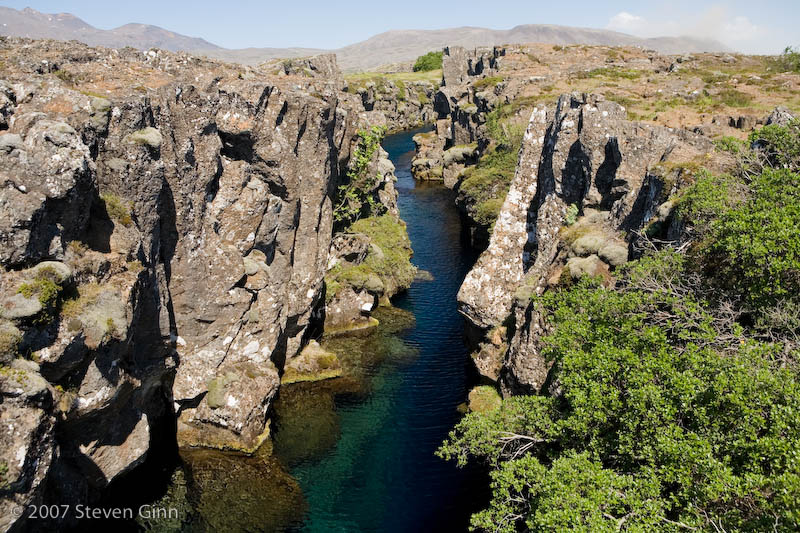 On our drive up into the mountains we came across the largest falls in Iceland known as Gullfoss Falls and famous for it's rainbows.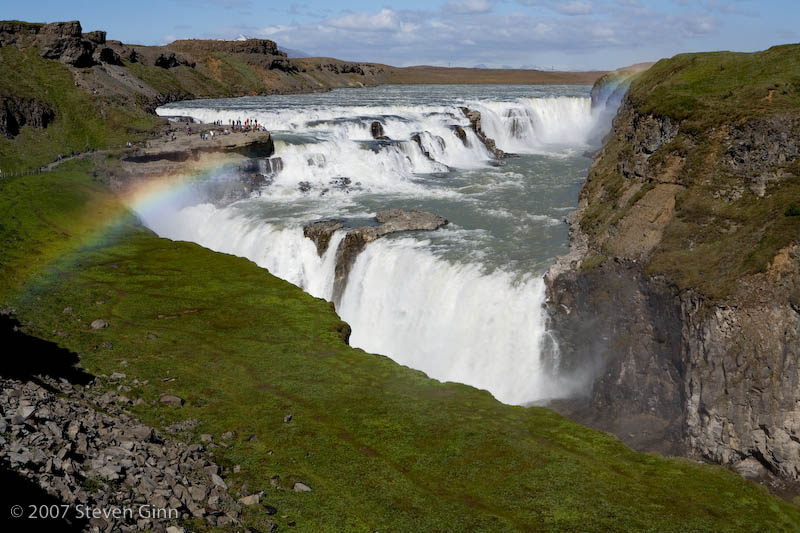 After touring the national park we had planned on taking a mountain road short cut to the location of our country hotel back on the coast but when we made the turn we discovered that it was a very rough road and started out almost immediately with a river crossing that we had to ford. We decided that this road was likely to not be a short cut but actually take longer than just retracing our steps back to the coast and driving up the coast to our next stop. This meant we had to push it to make it to Ensku húsin við Langá in time for dinner which we had been informed was served at 7pm. We made it in just in time and had a very pleasant dinner of poached salmon stuffed with cod along with some other folks from England, France and Germany. Our choice of wine was white or red from CA.
This is a photo of the country hotel we stayed at this evening.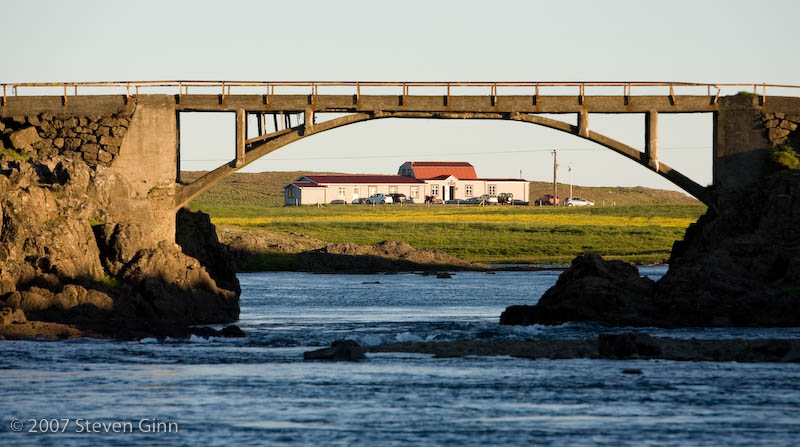 After dinner Rusty and I got back in the car and drove coastal back roads, all gravel roads, looking for interesting scenes in the evening light, which lasts until about midnight. We discovered that the landscape was rather flatter than we had expected. Here is one interesting photo I took while parked in the middle of a one lane bridge over a small river.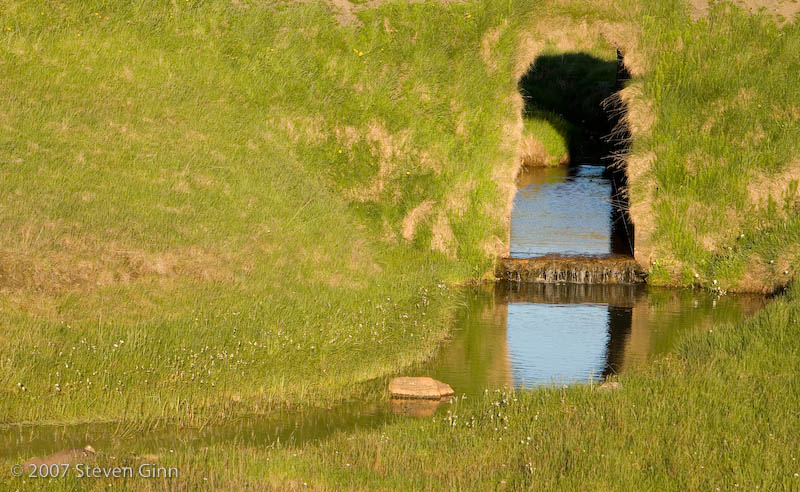 As you can tell we do have an internet connection at this first country hotel so there is hope we will have better connectivity on this trip than originally thought. However, I am having problems with my email, I can receive emails just fine but I can not send any for some reason. So if you are reading this I hope you let others know I am updating it on a regular basis.
Click here to return to the 2007 Iceland Trip index page.